Non League but No Problem for Bee Jays
KSCB News - June 12, 2013 6:48 am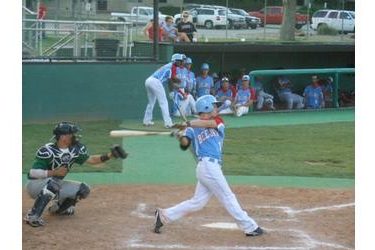 The Liberal Bee Jays dominated the Dodge City A's 15-0 Tuesday night at Brent Gould Field. The non conference game was never close as the Bee Jays handled the A's without regular starter Alec Isaac, who was ejected in the game against Derby earlier this week.
It didn't take the Bee Jays long to get started as they put up 7 in the first inning, including an inside the park home run from Seth Stevens that came with the bases loaded. Three straight doubles courtesy of Austin Murphy, Stevens, and Tanner Kirk would follow in the second inning putting up another 3 runs for the Bee Jays.
Liberal started pitcher Justin Bethard of Texas Tech Tuesday night, and he did not disappoint giving up no runs on two hits and recording 5 strikeouts through 5 innings. Bethard was followed by Justin Dellinger and Trevor Lundgrin neither of which allowed any runs.
The Bee Jays scored 15 off of 12 hits and 5 Dodge City errors. At least one RBI was awarded to nearly each of the Bee Jay's starting line up that was led by Seth Stevens who had 5 runs batted in. Tanner Dearman, Darrien Mclemore, and Zach Reding each had 2 RBIs of their own.
This moves Liberal to 8-3 overall while Dodge City is 2-6.
The Bee Jays start a three game road series against El Dorado Friday.The games in El Dorado will air on Talkradio 1270 and kscbnews.net at 7 each night. The Bee Jays will not be home again until June 21st, when they face Wellington.
Wyatt Miller