Non-Injury Accident Results in a Citation
Joe Denoyer - April 3, 2023 11:13 am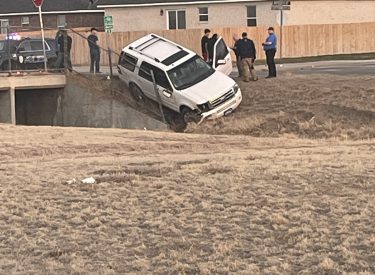 On Thursday March 30th, at approximately 7:46 pm, emergency personnel were dispatched to E. 15th Street and Cottonwood Lane in reference to an accident.
Upon arrival, Liberal Police Officers officers located a White Ford Expedition, driven by a 14-year-old male, off the roadway and partially down the embankment located on the Northwest corner of the intersection. Officers made contact with the juvenile and his mother where it was determined that the Ford Expedition was traveling Northbound on Cottonwood Ln and a green 2005 Dodge Caravan, driven by a 62-year-old male, was traveling West approaching the intersection of E 15th Street and Cottonwood Ln. The Ford Expedition failed to yield at the stop sign, striking the Dodge Caravan. After impact, the Ford Expedition struck the fence line located off the Northwest corner of the intersection and came to a stop.
Both vehicles were towed from the scene. Driver of the Ford Expedition was issued a citation for failure to yield.