Nolen's Swinging Tip Gives Seward One Point Win
KSCB News - December 11, 2010 12:00 am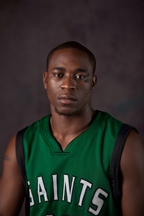 In an extremely unlikely finish, the Seward County
Saints held off a scrappy TAAG Academy Prep School team Saturday night
with a once in a lifetime tip-in from Marky Nolen as time expired to
give themselves an 84-83 win in their opening game of the 2010 Pizza Hut
Classic. Seward led nearly the entire game but let the Ambassadors hang
around until the end when they hit a couple of big shots and took care
of business at the free throw line to erase the Saints lead and take one
of their own in the waning seconds of the game. After TAAG made a shot
to take the lead with 6 seconds left, Seward did not call timeout and
Nolen marched the ball up the court to the right elbow. Thinking that
time was about to run out he launched up a shot that hit hard off the
backboard and the rim and it looked like the Saints were about to suffer
the biggest upset the Greenhouse has seen in a long time. However, fate
was on Seward's side tonight and the ball bounded off of the rim to
nearly the free throw line where Nolen happened to be after his momentum
from the first shot and after a wild volleyball like arm swing,
connected with the ball on a desperation tip that kissed off of the
glass and through the hoop as the horn sounded giving Seward County the
84-83 win.
Daveon Boardingham led Seward with 17 points in the game
while Jeremy Jones pitched in 16 to go along with 7 assists. Nolen
finished with 14 points and 10 rebounds as well as 6 assists. Phil
Hawkins and Markee Mazyck both had 10 for the Saints in the win.
Seward moves to 9-2 on the year and will take on the
Colorado Kings Saturday night at 8:00 in the Greenhouse.