No Tricks and All Treats for Aggie Football
KSCB News - November 2, 2015 6:38 am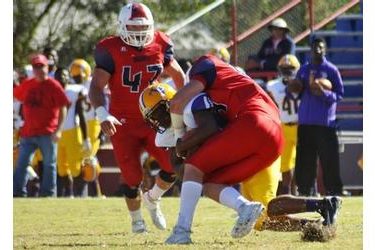 Goodwell, Okla.-Saturday was indeed a great day to be an Aggie! It was Aggie
Spirit that ruled this Halloween as fans gathered at Carl Wooten Field for a
festive day of food, football and fundraising for a great cause!
Not only did the Aggies notch a win over Texas College in a 62-7 surge, they
were also able to give back to the community that supports them by
collecting donations of baby necessities as well as monetary donations
throughout the game. All proceeds were given directly to the Panhandle
Services for Children; a non-profit organization that provides service to
children in crisis situations including foster care, counseling, crisis
intervention and rehabilitation.
Prior to the game fans were treated to a tasty tailgate with free burgers
provided by PSC, and the little Aggies had a chance to decorate spirit signs
to hold up at the game; the new Spirit Zone tables provide an artistic area
with poster board, markers, glitter and glue free of charge to anyone who
wants to express their spirit with a sign.
Inside the gates the Halloween theme was in full effect as fans of all ages
were dressed in costumes, eager for a chance to win cash prizes in the
Twitter Costume Contest that took place during the first half. The fans
weren't the only ones wanting to show off their silly sides, the
cheerleaders, band and even members of the OPSU Football staff broke out of
uniform for the occasion and wore costumes during the game. Five football
coaches were dressed as superheroes and villains on the sidelines and fans
were asked to vote for their favorites by dropping money into buckets during
the first half with all donations going to PSC.
The game kicked off with a bang as Zacari Lavender returned the opening
kickoff 85 yards for a touchdown. The Aggies scored on each possession of
the first quarter and held the Steers to just 15 yards of total offense,
taking a 34-0 lead after the first fifteen minutes of play. Three TDs were
off passes by Shane Truelove; one to receiver Devyn Williams and two to
running back Rod Moore. Moore also scored a third touchdown on an eight-yard
run. The Aggie defense forced three punts, recovered one forced fumble and
had three sacks in the first quarter.
The Aggies kept things rolling in the second quarter scoring twice more on
offense and allowing only eight yards defensively. The Steers continued to
struggle at the line as the Aggie D brought two more QB sacks (S. Catley, G.
Bonner) and one interception (R. Backstrom) in the second 15-minute stretch.
With Brandon Ramon in at quarterback, both touchdowns came by way of pass
completions to Kamerone Wheeler and Zacari Lavender. At the end of the first
half the Aggies were up 48-0.
Texas College got an edge from two offsides penalties on OPSU and were on
the move until a fumble forced by Sheldon Catley was recovered by the
Aggies' Darrell Green at the OPSU 25 yard line. Freshman Eddie Thomas took
over QB duties and started off with a complete pass to Dashawn Stephens on
the ensuing play. Chris McClendon then got the handoff and ran 67 yards for
the Aggies' eighth touchdown of the day. With three quarters in the books,
the Aggie lead jumped to 55 points.
The Steers held possession going into the fourth quarter and were coming off
a successful drive of five rushes for 27 yards; but a rush for loss followed
by an incomplete pass forced a punt midfield that was returned 38 yards by
Will McKinnis, and two plays later Anthony Bernal entered the end zone with
a complete pass from Eddie Thomas. With less than three minutes left in the
game, the Steers saved the shutout with a 48-yard pass complete for a
touchdown. The resulting kickoff was fair caught by Lavender and the Aggies
took a knee to tick off the final seconds from the clock. OPSU took a 62-7
victory and advanced to 5-3 on the season.
Offensively the Aggies put more play in the passing game totaling 379 yards
passing and 191 in rushing for 570 yards of total offense on the day. The
defense held TC to 142 yards passing and 75 yards rushing for 202 total
yards on offense. Zacari Lavender and Rod Moore led in all-purpose yards
racking up 127 and 110 respectively. Moore led the team in receiving with
three catches for 61 yards and two TDs; he totaled 49 yards rushing on nine
carries for one TD. The quarterback crew went a combined 23-29 on the day
with Truelove totaling 217 yards passing and going 11-16 for three
touchdowns. Ramon went a perfect 8-8 and had 122 yards and two touchdowns.
Thomas passed for 40 yards with one incompletion in five attempts.
The Aggies were well-represented on the defensive side with many players
making an impact during the game. Senior Tanner Hallford led in tackles with
six followed by Sequoia Smith, Glenn Bonner, Linden Robertson and Devon
Johnson who each had four. The defense combined for 15 tackles-for-losses
totaling 71 yards; Smith and Bonner each had three TFLs on the day. Five
sacks were dished out by Smith (1), Bonner (1), Johnson (1.5), Catley (1)
and Traray Givens (0.5). Eight pass breakups, two forced fumbles and on
interception led to 21 points off turnovers.
Commenting after the game head coach Russell Gaskamp said this, "I'm proud
that we came out and handled business; our guys executed well on both sides
of the ball." He added, "It was also good to get our reserve players some
reps and valuable game experience."
"I'd like to thank all the fans that came out to support us, and especially
those who participated with donations for the Panhandle Services for
Children," Gaskamp concluded.
The Aggies will play their final home game of the season this week with a
Lone Star Conference playoff game against West Texas A&M on Saturday, Nov.
7. Kickoff is set for 2 p.m. and the 9th Annual OPSU Chili Cook-off will
take place prior to the game. Registration is still open and those who wish
to compete in the cook-off can contact Jill Olson at 580-349-1302 for more
information.
###
Justine Gaskamp