No Need for a Makeover in Meade
Brock Kappelmann - August 29, 2017 12:55 pm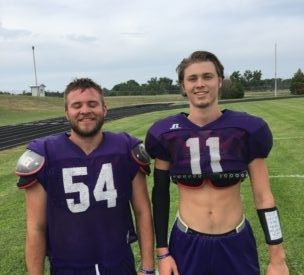 Meade looks to continue the tradition.  That is the aim as Justin Powell steps in as head coach for the Buffaloes.  The Southwestern Heights graduate has been an assistant at Meade under Scott Moshier the past 11 years.  He says getting the head coaching job at MHS was like a dream come true.  The Buffaloes will make only subtle changes after Moshier led the program to a 107-19 record in 11 years including state championships in 2010 and 2012.  The Buffs were 8-2 last year and return four starters on both sides of the ball.  MHS has 31 out for football.
Some of the key Meade players include Sr. RB/LB Devon Waters, Sr. OT/MLB Caden Godfrey, Jr. G/DE Gatlin Clawson, Sr. WR/CB Blaise Saucedo, and Sr. WR/CB Aiden Miller.  They have several difference makers entering the program.  Sr. QB/S Tristan Haynes was an all state player at Minneola.  Sr. FB/OLB Lander Martin from Minneola, and Sr. TE/ILB Cameron Jones from Fowler will bolster the Buffs.
Meade was featured during the Sportsguys on Friday.
Schedule
Sept. 1- Hooker
Sept. 8- at Lakin
Sept. 15- at Southwestern Heights (102.7 and kscbnews.net)
Sept. 22- Cimarron
Sept. 29- at Syracuse
Oct. 6- Remington
Oct. 13- Stanton County
Oct. 20- at Elkhart
Oct. 26- Sublette