No Bats at the Beef for Bee Jays
Brock Kappelmann - July 19, 2018 6:46 am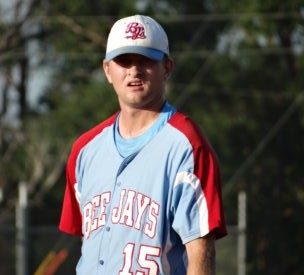 Due to the heavy rain which fell in Liberal Tuesday night, the Bee Jays played their first game since 2001 in the National Beef Sports Complex.  Dodge City's Cody White pitched a complete game holding the BJ's to three hits in the A's 3-1 win over the Bee Jays Wednesday night.  Dodge City wins five of six against Liberal and drops the BJ's into third in the Jayhawk League.
The Bee Jays scored in the first as Dane Simon reached on an error and scored on Peyton Johnson's RBI single to center.  They did not score again.  Dodge City scored one in the fourth against starter Payton Bauer who pitched seven innings allowing one run.  Tyler Giovanoni pitched two innings allowing two runs for the loss.  The A's out-hit the Bee Jays 10-3 and won despite committing three errors and stranding 12 runners on base.
Liberal is 21-14 overall and 17-12 in the Jayhawk.  They fall to third in the Jayhawk behind the A's who are 18-11 in the Jayhawk.  Liberal hosts Great Bend Thursday night at 7 at Brent Gould Field.  This is the makeup from Sunday night's rain out.  Technology for All is the buyout sponsor.