No. 3 Seward Tennis Downs DII Oklahoma Baptist
Joe Denoyer - April 24, 2019 8:53 am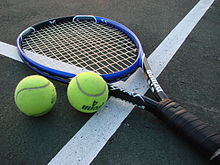 The third-ranked Seward County Community College men's tennis team posted its 10th win in its last 11 matches with a 6-1 triumph over Division II Oklahoma Baptist University on Monday. The Saints improved to 13-5.
Seward jumped out to a 1-0 lead by taking the doubles point on a three-match sweep. No. 1 Gabe Nary and Sander Jans defeated Gianlucca Galdi and Kevin Andrusch, 6-2, No. 2 Nic Rousset and Nyathi Motlojoa knocked off Andres Graterol and Matias Le Fort 6-3 and No. 3 Francisco Vargas and Carlo Izurieta beat Nick Parker and Carlos Felgueroso, 6-3.
The Saints continued their domination on the singles side. Seward won the first three matches to take an insurmountable 4-0 advantage. No. 6 Alex Mesquita started things off with a 6-2, 6-0 win over Parker, No. 5 Nary defeated Rhett Rollins, 6-4, 6-1 and No. 1 Rousset downed Andrusch, 6-1, 6-4.
In the other three matches, No. 3 Izurieta defeated Le Fort 6-4, 6-2, No. 2 Vargas rallied after losing the first set to beat Galdi, 5-7, 6-2, 10-2, and No. 4 Jans fell to Graterol (OBU) in a thriller, 2-6, 6-4, 14-16.
The Saints will host the Region VI Tournament at 9 a.m. on Friday and Saturday at Blue Bonnet Park.