No. 18 Saints Win 4th Straight
Joe Denoyer - January 20, 2019 2:24 am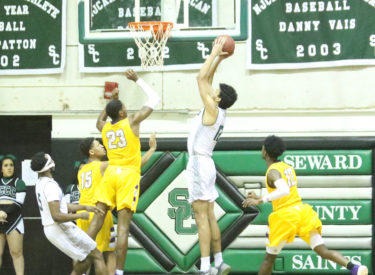 LIBERAL, Kan. – The No. 18 Seward County men's basketball used career-highs from Devin Bethely and Reggie Miller to win their third straight over the Dodge City Conquistadors 89-79.   Seward is now 15-3 overall and 8-1 in the Jayhawk Conference.
The Saints continued their offensive attack that has been extremely efficient the last few games, specifically with Bethely to start the game, as the led Seward with 12 points in the first six minutes of play as the Saints took a 21-9 lead over the Conqs. After the Saints went up by 14 points, the Conqs began to slowly cut into the Seward lead.
With just over two minutes to play in the half, Dodge City cut the Seward lead to five points. Neither team would score again until under a minute left when the Conqs cut the Seward lead to two points with a jump shot. Seward finished the first half on a three-minute scoring drought, but the early lead gave them enough to still go into halftime with a lead.
After slowing down to end the half, the Saints came out of the break firing, quickly extending their lead to seven points with a Mohamed Selmi layup coming off an offensive rebound. A few minutes later, Reggie Miller hit back-to-back shots to give Seward a double-digit lead. The lead ballooned to twenty points by a score of 78-56 at the media timeout.
The Conqs used the final six minutes of play to cut that deficit in half as the Saints scored just six points after leading 83-60.  Dodge City's rally came too late, though, as the time ran out, as the Saints won 89-79.
The Saints' hot shooting continued, with Seward shooting 45.5 percent (30-for-66) from the floor and 37 percent (10-for-27) from behind the arc.  Seward struggled from the free throw line, going 9-for-16 from the charity stripe. Dodge City shot 44.1 percent (30-for-68) from the field and 36.4 percent (8-for-22) from deep.
Four Saints scored in double-figures led by career-highs by Reggie Miller (23 pts) and Devin Bethely (21 pts).  Isiah Small (14 pts) and Mohamed Selmi (10 pts) each reach double-digits.
The Saints will return to the Greenhouse on Monday (Jan. 21) against Neosho County.  The game will start at 8:00 p.m. and tickets picked up for the original Jan. 12th date will be accepted for Monday's games.  The game airs on 107.5 and kscbnews.net.