No. 18 Saints Stay Hot in Pratt
Joe Denoyer - January 17, 2019 11:24 am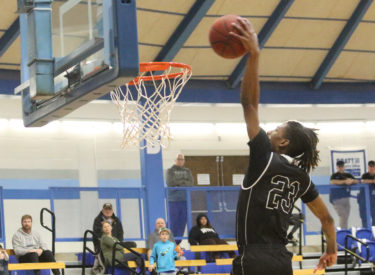 By Ian Applegate
PRATT, Kan. – The No. 18 Seward County men's basketball team won their 9th out of their last 10 games on Wednesday, defeating the Pratt Beavers 80-63, improving to 7-1 in the Jayhawk Conference.
Two days after a dominating offensive performance, the Saints were still reeling, quickly going up by double-digits against the Beavers before Pratt used a timeout to try to cool off Seward.  In the first 10 minutes of the game, Devin Bethely scored 15 points on 6-of-9 shooting, including going 3-for-4 from behind the arc.
The Saints cooled down offensively, but their nationally ranked defense continued to give opponents nightmares.  The Saints forced the Beavers into 11 first half turnovers that were turned into 17 points.  Pratt only managed five points off turnover from the seven Saints giveaways.  The Saints took a commanding 43-32 lead into halftime.
In the first half, Seward shot 54.8 percent from the floor and 50 percent from deep, while the Beavers hit 50 percent from the field and behind the arc.
The Beavers had no answer for the Saints in the second.  The second-highest scoring offense in the Jayhawk conference was limited to just 63 total points, nearly 20 less than what they average.  Seward forced 11 more turnovers in the second half as the defense began hounding the Beavers, creating easy offense off tremendous defensive effort. The Saints controlled the second half, beating the Beavers 80-63 to extend their Jayhawk West lead by one game.
The Saints shot 47.5 percent (28-for-59) for the game and 34.6 percent (9-for-26) from deep.  The Beavers were held to 38.6 percent (22-for-57) from the field and just 30.8 percent (4-for-13) from deep after being held to just 1-of-7 in the second half.  The Saints outscored the Beavers 26-8 on points off turnovers, one of the deciding factors in the game.
Montrevion Flowers had another stellar performance, scoring a career-high 21 points.  Devin Bethely scored 20 points for the third time in his career, coming up one shy of his career-high.  Isiah Small finished with 11 points.
The Saints will return to the Greenhouse following a 5-week hiatus on Saturday (Jan. 19) for a 8:00 tip against Dodge City.  The game will be Seward's "Oldies" night.  Free tickets are available thanks to Community Bank and can be picked up at Community Bank or Liberal Hutch's locations.