No. 12 Lady Saints Drub Pioneers
Joe Denoyer - December 28, 2018 6:56 pm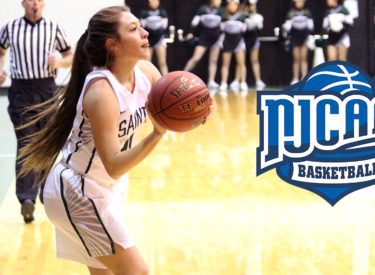 The No. 12 Seward County women's basketball team started their winter break trip with a win over the Indian River State Pioneers 92-75 Friday night at the Pensacola Classic.
Seward struggled in the first quarter, scoring just nine points as the Pioneers took a 15-9 lead, but a strong second quarter saw the Lady Saints surge to a halftime lead. Kalen Green and Carla Covane combined for 16 of Seward's 28 second quarter points as the Lady Saints took a 37-30 lead into the break.
The Pioneers were held to just 11 points in the third quarter as the Lady Saints used another hot quarter to extend their lead, scoring 23 points as they took a 21 point lead into the final quarter of play by a score of 60-41. Lexi Hernandez came away with nearly half of Seward's points in the third quarter, scoring 11 points off three three-pointers. The Lady Saints had one of their best quarters of the season to end the game, scoring 32 points as Seward ran away with the win over the Pioneers 92-75.  Karolina Szydlowska scored 10 of her 12 points in the final quarter of play while Covane added eight more points to her total.
Two Lady Saints reached 20 points as Hernandez led all scorers with 21 points and Covane finished with 20 points, a career-high for the sophomore center. Szydlowska (12 pts), and Green (15 pts) each finished in double-figures.
The Lady Saints will finish non-conference play tomorrow at 1:30 p.m. against NJCAA Division II 5th-Ranked North Arkansas at the Pensacola Classic