NJCAA Names Mestres National Goalkeeper of the Week
Brock Kappelmann - September 13, 2023 3:22 pm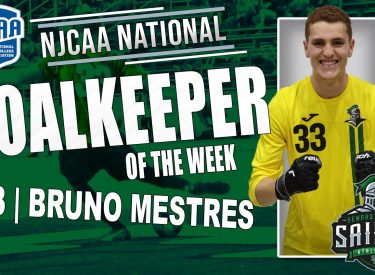 Liberal, KAN – Earlier this week on Tuesday freshman Bruno Mestres was named the KJCCC Goalkeeper of the Week for the first time in his career and the first recipient in Seward County men's soccer history. Today he continued to create firsts for the program as he was recognized by the NJCAA as the National Goalkeeper of the Week.
Mestres recorded 18 saves in 180 minutes played between both games with 11 of those saves coming in a tie against Garden City on Wednesday and 7 in a shutout tie over Neosho County on Saturday.
Mestres is the Saint's leader in saves so far this season with 36 saves through four games which is ranked first in the KJCCC and tied for fourth most in the NJCAA.
"I'm very happy that they awarded me this honor" says Bruno Mestres. "Since I wanted a child I have wanted to come play collegiate soccer here in the U.S. I want to thank all of my teammates, my coaches, and the staff here at Seward County for their unwavering support for myself and our program and I cannot wait to continue this success".
Seward County men's soccer will be back in action on the road for their third of five straight away games tonight when they head out to Dodge City to take on the Conquistadors in a 4 PM matchup against the third ranked team in the conference.