NJCAA All Stars Dominate Bee Jays
Brock Kappelmann - August 7, 2016 9:55 am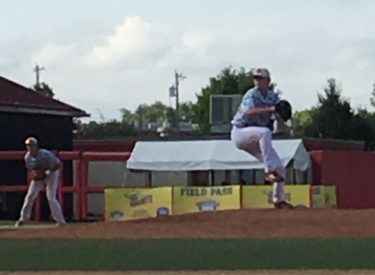 photo by Brady Kappelmann
The NJCAA All Stars had too much for the Liberal Bee Jays.  Using the best the NJCAA had to offer with players who have signed at places like Arizona, Louisiana, Mississippi State, Arkansas, Dallas Baptist, Oklahoma and Kansas State, the NJCAA team won easily.  They beat Liberal 12-4 in an eight inning run rule in Liberal's first Championship Week game.  The Bee Jays are 0-1 win pool play.
The NJCAA scored in all but one inning.  They scored one in the first and second, three in the third, one in the fourth and fifth, three in the seventh and two in the eighth.  Liberal cut the lead to 5-2 when they scored two in the third.  Kyle Knauth doubled home a run.  Brady Cox singled home a run.  Jaron Robinson led off the fourth with a triple and scored on a Luke Reinschmidt sac fly to make it 6-3.  Knauth doubled to lead off the fifth and scored on a Blake Brewster ground out.  But five BJ pitchers just couldn't hold down this powerful lineup.  Brylie Ware, the  NJCAA player of the year from Neosho and Handsome Monica of Northwest Florida State blasted tape measure homers. The JUCO team out hit the Bee Jays 18-6 and Liberal had two errors.  For Liberal, Knauth was 2-4 with two doubles.  Jaron Robinson was 2-3 with a triple.
Liberal continues pool play at 0-1 against the 1-0 Kansas Stars made up of former MLB players.  The game is at 7 Monday night at Lawrence-Dumont Stadium and airs on 1270 and kscbnews.net.