Niem Stevenson is First Team All American
KSCB News - April 8, 2016 6:52 am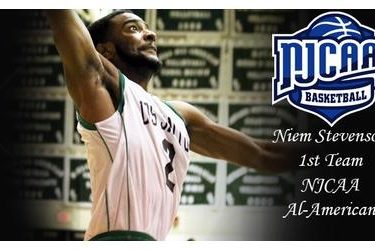 n the 47 years of Seward County Men's Basketball, there has been a book full of history written which has included records set and records broken, first, seconds, and thirds of many different things, but with the release of Thursday's NJCAA All-Americans list, Saint sophomore Niem Stevenson made a piece of history that has never been done before at Seward County. Stevenson was named a 1st Team NJCAA All-American, in and of itself a feat, the first time a Seward player has been named 1st Team All-American since 2012, but more historically, Stevenson becomes the first Seward player in program history to ever be named NJCAA All-American twice after receiving Honorable Mention accolades in 2014.
After missing last season due to a season ending knee injury, Stevenson came back stronger than ever for Seward in 2015-2016. He led the Jayhawk Conference and ranked 4th nationally, averaging 24.7 points per game as a sophomore. He shot 51% from the field which was second best among any of the nation's top 10 scorers while connecting on 37% from downtown on the year. Stevenson scored 20 or more points in all but seven Seward games this season, going over the 30 point mark the same number of times at seven. Stevenson came up big when the Saints needed him most in 2016, putting together 37 and 35 point games against first place Hutchinson and scored 36 against second place Pratt. As well as leading the Saints in scoring this season, Stevenson also led Seward in rebounding at 6.9 per game, making he and fellow 1st Team All-American Bashier Ahmed of Hutchinson the only two players in the league to average more than 20 points and 6 rebounds per game this season. Stevenson was named 1st Team All-Jayhawk as well as 1st Team All-Region this season and was tabbed the Jayhawk Conference Player of the Week an unbelievable seven times on the year. He finishes his Seward County career as the fourth all-time leading scorer with 1,345 career points, putting him behind only three Saints Hall of Famers in Tony Slaughter, Kevin Houston, and Carlo Walton. Stevenson's 767 points this season were also fourth most all-time in a single season.
Stevenson who has been one of the most sought out junior college recruits in the country this season, remains unsigned as April hits with suitors such as Kansas, Oregon, Texas A&M, Cincinnati, and Ohio State all hot on his trail.