Niem Named First Team All Conference
KSCB News - March 8, 2016 6:46 am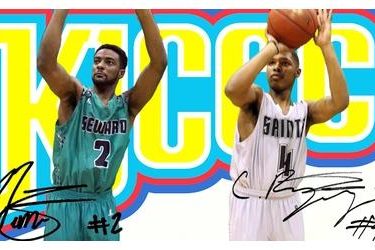 With one player wrapping up his sophomore season and one wrapping his freshman campaign, a pair of Seward County Saints were honored by the Jayhawk Conference on Monday as Niem Stevenson was named a 1st Team All-Conference member for the second time while Charles Beauregard was picked to the 2nd Team.
Stevenson bounced back from an injury that kept him out of action last season with a bang in 2016, torching the nets for a league best 24.7 points per game on 51% shooting on the year, earning 1st Team All-Jayhawk Conference honors for the second time in his career. Stevenson was named the Jayhawk Conference Player of the Week a league best seven times, leading the conference in scoring from wire to wire. Stevenson was even a tick better in the Saints 19 conference games this year, scoring 25.1 points per game and also pulling down 7.6 rebounds per night in league play. He topped the 20 point mark an unbelievable 24 times in 2015-2016 and went over 30 seven different times including efforts of 37 and 35 in Seward's two games against Conference Champions Hutchinson.
Beauregard was overshadowed by Stevenson during his freshman season, but put together a heck of a campaign, averaging 16.3 points per game which ranked second on the team and 10th in the Jayhawk Conference, to earn 2nd Team All-Conference accolades. Beauregard, like Stevenson stepped up his game in conference play, averaging 17.2 per game in those 19 contests. He went over the 20 point mark nine times including a season high 28 point performance against Coffeyville in January.
Hutchinson's Steve Eck was named the Coach of the Year while the Blue Dragons Bashir Ahmed was named the Most Valuable Player. Josh Boutte of Dodge City was named the Freshman of the Year while Hassan Attia of Colby and Keanu Pinder were named the Co-Defensive Players of the Year. Hutchinson led the selections with four All-Conference players while Pratt had three.
JAYHAWK ALL-CONFERENCE TEAMS<http://www.kjccc.org/sports/mbkb/2015-16/Awards/2016_All-KJCCC_DI_Mens_Selections.htm>