New Owner May Limit Access To Kansas Landmark
KSCB News - January 11, 2013 8:57 am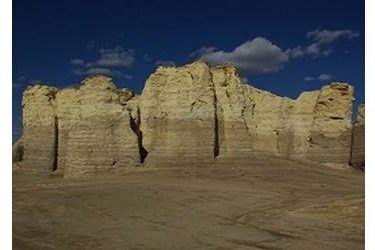 The new owner of a western Kansas ranch that contains nationally recognized chalk formations said he isn't sure whether he will continue to allow full public access as he plans to use the land for his cattle operation and expand oil exploration.
Businessman and rancher Norman Nelson, of Norton, has agreed to buy the 12,900-acre Pyramid Ranch in Gove County for $10 million, pending some legal research, The Hays Daily News reported Wednesday.
Nelson owns First State Bank and has large land holdings in Norton, Trego and Russell counties.
The Monument Rocks are part of ancient chalk beds created when the central U.S. was covered by water. The 50-foot spires of the monument, also known as the Chalk Pyramids, are a National Natural Landmark. The formations were an important landmark for stagecoaches on the Butterfield Overland Dispatch Trail and Fort Monument, a post-Civil War fort that was established in 1865 to protect the stagecoach and mail route. They have remained a popular stop for tourists and local residents.
Nelson told The Daily News that he's concerned about liability issues if he continues to allow the public unlimited access to Monument Rocks, which have been designated one of the 8 Wonders of Kansas. A main county road currently splits the rocks, which share the 8 Wonders designation with Castle Rock in the eastern part of the county.
"At this moment, they're open to the public," Nelson said. "We're not sure what to do. It would probably be smart to put up a good fence. Let the people look at them, but not go around them."
Nelson is buying the entire ranch and most of its mineral rights. He said Pyramid Ranch is fenced into six pastures and could support between 1,300 and 1,600 cow-calf pairs.
He also plans to expand oil exploration beyond the land's three wells. Nelson said an oil man told him he could recover the purchase price through the sale of mineral rights.