New Kansas Law Challenges Health Care Mandate
KSCB News - May 26, 2011 8:05 am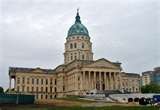 Kansas has enacted a law challenging a
mandate in last year's federal health care overhaul that most
Americans buy health insurance.
Gov. Sam Brownback signed a bill Wednesday containing a proposed
"health care freedom" law.
It says Kansas residents have the right to refuse to buy health
insurance and can't be fined or forced to pay other penalties for
refusing to buy it. The federal mandate taking effect in 2014
includes tax penalties for most Americans if they don't buy
insurance.
Some legislators questioned whether it would have any practical
effect, arguing that federal law will trump state policy.
Measures aimed at blocking the federal health insurance mandate
have been approved in more than a dozen states, according to the
National Conference of State Legislatures.