New Cat Exhibit Within Reach At Lee Richardson Zoo
KSCB News - February 24, 2010 12:00 am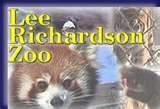 A new home is in reach for the big cats at Garden City's Lee Richardson Zoo.
Zoo supporters say after a three-year fundraising effort, they've raised $605,000 for the new Cat Canyon exhibit. That's beyond the original goal of $600,000.
Even with the extra money, efforts to raise more fund for Cat Canyon are not over. Mary Palmer with the Friends of the Lee Richardson Zoo says construction costs have increased since the original estimate three years ago, so supporters are expecting to need more money.
Palmer says the zoo will get new cost estimates in about a month, then bids will be taken on the project's construction. Palmer says work won't begin until all the money has been raised. She says the community's support in reaching the original goal shows there is strong support for the new habitat.
Palmer says the zoo's main fundraisers in July and October will be dedicated to meeting the gap to finish the project. She says there will also be a special theater production and variety show at the zoo to raise money. It would be the second year for the show, which sold all its showings last year.
The new habitat will have special areas for the zoo's pumas, bobcats and jaguars. There will also be a new shelter building for the animals.