Neosho Not Grand Enough for Seward
KSCB News - May 14, 2011 8:34 pm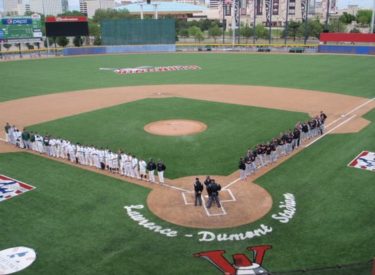 The statistics show you usually don't when a game when you allow a grand slam. But the Seward County Saints and their fearless ace Logan Hall defied those odds Saturday in the Region 6 Baseball Tournament at Lawrence-Dumont Stadium in Wichita. The Saints seemed to be riding high leading 7-2 against the #17 Panthers until the NJCAA's leader in RBI's and second leading home run hitter Adam Giacalone deposited a Logan Hall pitch over the right field wall for a grand slam to make it 7-6 Saints. That's when Hall retired 14 of the next 15 batters and helped the Saints (42-18) beat Neosho (46-13) 8-6. Hall struck out a career high eight and improved to 10-2.
Seward built a 7-2 lead by scoring four in the first, two in the third, and one in the fourth. Jake Barrios was 2-4 with a triple and an RBI. Willie Gustin was 2-5 with a triple and a double. JT Bean was 2-5 with two doubles and an RBI. Jon Mestas was 2-4 with an RBI. Jordan Dallalio was 1-4 with two RBI's in that first inning.
Hall won his 17th career game moving into a second place tie with David Dinsmoore for most wins in Seward history. Danny Vais won 21.
Seward plays Garden City Sunday at 2 p.m. on Talkradio 1270 and kscbnews.net. The Broncbuster beat Colby 5-2. If Seward wins, they advance to the championship Monday at 4 p.m. If they lose, they play at 5 p.m. Sunday. The Saints games will air on Talkradio 1270.