National Website Names Liberal Fifth Best Summer Baseball Program
KSCB News - August 26, 2010 12:00 am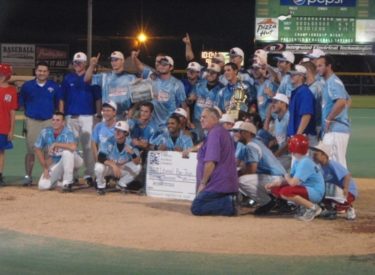 Perfectgame.org ranks the top summer baseball programs. Liberal ranks number five and number one from the National Baseball Congress.
FINAL RANKING
Weekly Ranking of College Summer League Teams (Previous Week's Ranking Noted in Parentheses)
RANK LW Team ST League Record Accomplishment
1 3 Eau Claire Express WI Northwoods 52-24 League champion
Express close deal, post NWL's best record, win playoffs; get big seasons from Augustana IF Drew Heithoff (.389-1-17), Texas A&M-CC RHP Ian Campbell (7-1, 1.36)
2 4 Chillicothe Paints OH Prospect 41-17 League champion
Paints surge to best record/league title behind huge season of Michigan State OF Jeff Holm (.359-11-60, 38 SB), steady play of Wooster SS Greg Van Horn (.317-4-33)
3 1 Yarmouth-Dennis Red Sox MA Cape Cod 32-19 Eastern Division regular-season champion
Y-D falters in Cape playoffs with No. 1 rank on line; big seasons from undrafted juniors, Fresno State 1B Jordan Ribera (.259-7-26), Houston OF Caleb Ramsey (.311-1-18)
4 9 Forest City Owls NC Coastal Plain 43-21 League champion
Nation's No. 1 team in 2009 repeats as CPL champs; Owls get big season from returning Middle Tennessee OF Will Skinner (.307-5-30, 3 HR in 8 playoff games)
5 16 Liberal Bee Jays KS Jayhawk 37-14 National Baseball Congress World Series champion
Bee Jays roll to fifth NBC title; Texas Tech-bound SS Kelby Tomlinson (.339-1-28, 36 SB), Lubbock Christian RHP Paul Gonzalez (6-0, 1.98) spark charge
6 2 Santa Barbara Foresters CA California 45-11 League champion
Talented Foresters win Cal League title, stumble in NBC World Series; Nevada OF Nick Melino (.365-5-28), Rice OF Jeremy Rathjen (.320-3-26) power offensive attack
7 17 Cotuit Kettleers MA Cape Cod 25-24 League champion
Kettleers lose final 8 of regular season, win 6 of 7 for Cape title; UC Irvine 1B Jordan Leyland (.264-2-14), Arizona State SS Deven Marrero (.306-1-7) on fire in playoffs
8 8 Mat-Su Miners AK Alaska 33-15 League champion
Miners repeat as Alaska champs behind Central Missouri SS Bret Schwartz (.420-0-13), player of year, and Florida Atlantic OF/RHP Andy Mee (.353-1-37, 4-0, 1.50)
9 5 Orleans Firebirds MA Cape Cod 25-22
Firebirds late-season charge falls short in playoffs; Hawaii 2B Kolten Wong (.341-3-11, 22 SB), Gonzaga LHP Ryan Carpenter (3-0, 2.56) cement status for 2011 draft
10 6 Sedalia Bombers MO MINK 38-10 League champion
Bombers dominate MINK League, fall short at NBC; Florida International C Jose Behar (.433-0-26) wins bat title, LHP Mike Kickham (3-0, 0.29) signs for $400,000-plus
11 12 Brewster Whitecaps MA Cape Cod 27-19
Memphis OF Drew Martinez (.359-1-18, 22 SB), Long Beach State RHP Drew Gagnon (5-1, 2.10) can't offset mid-season loss of LSU RHP Anthony Ranaudo (3-0, 0.00)
12 13 Hamilton Joe's OH Great Lakes 29-15 League champion
Joe Nuxhall namesake gets big playoff push, impressive seasons from previously-unheralded Lake Erie SS Ryan Rua (.333-2-22), Harvard LHP Brent Suter (5-0, 1.27)
13 14 Amsterdam Mohawks NY New York 33-15 League champion
Marist SS Jon Gshwind (.292-4-39) powers Mohawks to best season record in NYCBL, Dartmouth LHP Kyle Hunter (5-0, 0.68 in season, 2-0, 0.00 in playoffs) to title
14 19 Victoria Generals TX Texas 34-17 League champion
Steady pitching of Texas State RHP Joseph Dvorsky (7-0, 2.66) and Baylor RHP Kolt Browder (4-1, 0.65, 4 SV) lift Generals to TCL best record, league championship
15 22 Luray Wranglers VA Valley 33-18 League champion
Wranglers storm through Valley playoffs behind defensive play of South Florida C Nick Rickles (.284-8-38), power hitting of Central Florida 1B Jon Griffin (.333-13-44)
16 28 North Shore Navigators MA New England 31-20 League champion
Navigators short on premium pro-level talent, but surge to NECBL title behind Columbia OF Jason Banos (.348-1-15), Baylor LHP Crayton Bare (3-1, 1.98)
17 Wenatchee AppleSox WA West Coast 33-20 League champion
Apple Sox surge to fourth WCL title in six years on strength of Washington 1B Eric Peterson (.342-5-33), Gonzaga-bound LHP Marco Gonzales (5-1, 2.77, 52 IP/66 SO)
18 15 Alaska Goldpanners AK Alaska 34-15
Ex-San Diego State coach Jim Dietz energizes former national power, gets solid seasons from USC RHP Ryan Cabral (5-0, 2.47), Rice RHP Chase McDowell (3-2, 2.30)
19 Wisconsin Woodchucks WI Northwoods 43-30
Lose out to No. 1 Eau Claire in regular season/playoffs; ORU OF Brandon King (.392-3-24) tops team in hitting, UCLA LHP Mitch Beacom (2-1, 1.08, 6 SV) on mound
20 20 Edenton Steamers NC Coastal Plain 37-26
Steamers lose in CPL final, but get big seasons from relief tandem of Delta RHP Coty Saranthus (7-0, 0.68), Longwood RHP Mark Montgomery (12 SV, 28 IP/54 SO)
21 21 Licking County Settlers OH Great Lakes 31-13 Regular-season champion
Settlers get big summers from Jacksonville OF Adam Walker (.344-8-35), Xavier OF John McCambridge (.444-0-20, 22 SB), but falter in Great Lakes playoff run
22 Youse's Maryland Orioles MD Cal Ripken Sr. 37-15 All-American Amateur Baseball Association champion
After year's absence, perennial power O's return to AABA tournament, dominate field; get solid year from Stetson-bound RHP/3B Ben Carhart (.308-2-28; 3-0, 0.00, 6 SV)
23 23 San Luis Obispo Blues CA California 32-17
Blues enjoy successful return to CCL, get big seasons from Texas A&M OF/3B Matt Juengel (.378-2-23, 22 SB), Oral Roberts RHP Sean Johnson (0-0, 0.00, 13 SV)
24 24 Newport Gulls RI New England 30-17 Eastern Division regular-season champion
Gulls feature NECBL's two best prospects, Stanford RHP Mark Appel (6-1, 1.37) and SS/3B Kenny Diekroeger (.324-2-19), but lose in playoffs, fail to repeat as champs
25 25 North Fork Ospreys NY Atlantic 31-15 League champion
Connecticut OF Billy Ferriter (.373-2-15), Quinnipiac RHP Derek LaMacchia (5-1, 1.37) lead Ospreys to best record in regular season, easy run through ACBL playoffs
26 26 Winter Park Diamond Dawgs FL Florida 31-11 League champion
Dawgs won 10 games in 2009, but surge to regular season, playoff titles; State College of Florida RHP Nick Goody (4-2, 1.84) steps up in 1-0 win in deciding game
27 7 Haymarket Senators VA Valley 33-16 Regular-season champion
Solid seasons by Florida International 1B Rudy Flores (.405-4-30), Connecticut LHP Greg Nappo (5-1, 1.64) spark Senators to regular season title, but playoff setback
28 27 Bethesda Big Train MD Cal Ripken Sr. 29-17 League champion
Big Train wins second straight Ripken playoff title on strength of big seasons by St. Pete JC RHP Cody Allen (3-2, 3.19), Charlotte RHP Bryan Hamilton (2-1, 0.42, 8 SV)
29 29 Bourne Braves MA Cape Cod 24-22 Western Division regular-season champion
Braves fail to repeat as Cape champs, despite Vandy LHP Grayson Garvin (5-0, 0.74), league pitcher of year; Louisville RHP Tony Zych (0-0, 0.89, 12 SV), No. 1 prospect
30 30 St. Cloud River Bats MN Northwoods 40-30
River Bats post best record in Northern Division, boast Rutgers SS Steve Nyisztor (.306-8-56) and Loyola Marymount LHP Jason Wheeler (8-1, 1.35), but fall in playoffs
OTHERS RECEIVING CONSIDERATION: Kenai Peninsula Oilers/Alaska (33-17); Gastonia Grizzlies/Coastal Plain (37-24); Wilson Tobs/Coastal Plain (37-21); Morehead City Marlins/Coastal Plain (35-22); Waikiki Surfers/Hawaii (24-16); Tradewater Pirates/KIT (34-15); St. Joseph Mustangs/MINK (31-17); North Adams SteepleCats/New England (29-19); Danbury Westerners/New England (29-22); Elmira Pioneers/New York (31-17); Madison Mallards/Northwoods (41-29); Willmar Stingers/Northwoods (39-31); Rochester Honkers/Northwoods (39-31); Green Bay Bullfrogs/Northwoods (39-31); Danville Dans/Prospect (33-25); Springfield Sliders/Prospect (35-20); Palm Springs Power/Southern California Baseball Association (34-4); East Texas Pumpjacks/Texas (34-20); Corvallis Knights/West Coast (31-19); Swift Current Indians/Western Major (37-15).