National Transportation And Safety Board Begins Investigation
KSCB News - June 25, 2012 12:21 pm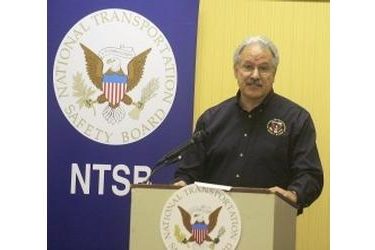 The National Transportation Safety Board arrived in the Oklahoma Panhandle Sunday night to begin investigation into the cause of a deadly head-on train collision between two Union Pacific freight trains two miles east of Goodwell, Okla., Sunday morning.
One person survived and three are still unaccounted for.
"The NTSB assembled a go-team to launch an on-scene investigation," said NTSB board member Mark Rosekind. "The 14-member go-team is led by Wayne Workman, a senior investigator with 40 years of experience."
The team has expertise in operations, track, signals, mechanical, chemical components, survival factors and event recorders.
Rosekind anticipates investigators to be on scene for at least five days.
"Over the next few days, investigators will be working on scene to thoroughly document the accident site and gather factual information," Rosekind said. "Our mission is not only to determine what happened, but why. It's that why that allows us to make safety recommendations to prevent these kinds of accidents from occurring in the future."
He said they will not determine the probable cause while on scene, nor will they be providing any analysis of the factual information gathered on scene.
Specific information on fatalities will be provided by the Oklahoma State Medical Examiners office.
"On behalf of all the men and women at the NTSB, I want to extend our deepest condolences to the families and friends of those who lost their lives or were injured in this tragic accident," Rosekind said.
Rosekind said any witnesses to the accident are asked to contact local law enforcement, who will contact the NTSB.
The NTSB is an independent federal agency charged by Congress to investigate all civil aviation accidents in the United States, and significant rail, highway and pipeline accidents.