National Championship Winning Bee Jay Manager Dies
Joe Denoyer - August 30, 2018 8:20 pm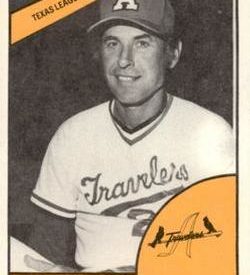 SEGUIN, Texas – Texas Lutheran University Athletics mourns the passing of Carlton "Buzzy" Keller, former director of athletics, head baseball coach and decorated student-athlete, who died Monday at the age of 84.
A graduate of Texas Lutheran College in 1955, Keller lettered in football, basketball, baseball, and track & field. He signed with the Chicago Cubs upon graduation and had a long career in professional and semi-professional baseball.
Keller was inducted into the Texas Lutheran Athletics Hall of Fame (then called the Texas Lutheran Athletics Hall of Honor) in 1980.
Keller became the head baseball coach at Texas Lutheran in 1960 and led the Bulldogs to three Big State Conference Championships. He coached the Bulldogs from 1960 to 1970 and won 135 games.
"Buzzy Keller was the ultimate TLU Bulldog," said Bill Miller, TLU's director of athletics and former head baseball coach. "Not only was he a great player at TLC in the 1950s, but during the following years he spent a lot of his time and energy giving back to the university. During the 1974 national championship football season, he volunteered to help coach, but he also served as an athletic trainer. He did that for several years while still being a professional baseball scout. After I became the head baseball coach, he became my mentor and friend. Each fall he would come out a do a two-day seminar on base-running. His knowledge of baseball was extensive. He also had a tremendous respect for the game and knew how to play the game the right way."
"When (former defensive coordinator) Tom Mueller returned to Texas Lutheran as head football coach in 2002, Coach Mueller wanted Coach Keller to be the kicking coach, which Coach Keller did for many years. He knew a lot about everything. He was connected to TLC/TLU Athletics for at least 50 years in the role of student-athlete, athletic trainer, head baseball coach, assistant baseball coach, and assistant football coach. He was still listed as a member of our baseball coaching staff all the way until last year. He is one of the few former TLU/TLC student-athletes who was inducted into the Athletics Hall of Fame and also the TLU Athletics Leadership Wall of Honor. He bled black and gold. He was a very special man. The countless number of TLU students that Coach Keller positively impacted is immeasurable. TLU has lost a true Bulldog and a great man."
Keller served as the Bulldogs' director of athletics, beginning in 1966 and continuing through the conclusion of the 1969-70 athletics year.
"Coach Keller was a fixture in Texas Lutheran Baseball during my previous 20 years," said Greg Burnett, current head coach of TLU Baseball. "The past years he has not been able to come around as often, and he was certainly missed. He played a tremendous role in Texas Lutheran Baseball and in my career, and his support of Bulldog Baseball and the support he gave to me will never be forgotten."
Keller served as a Major League Baseball scout for the Pittsburgh Pirates, the Chicago Cubs, the Seattle Mariners, and the Texas Rangers. He was the Pirates' Director of Player Development in 1989 after serving as the Pirates' Scouting Supervisor for the Southwest.
Keller instructed and then managed the Kansas City Royals Baseball Academy, and he also served with the St. Louis Cardinals as a minor league instructor. In 1968, he managed a semi-pro baseball team, the Liberal (Kansas) Bee Jays, to the National Baseball Congress World Series Championship.
Keller also managed the Royals of the Gulf Coast League and twice led the Royals to league championships (in 1971 and 1972). He also managed the Johnson City Cardinals of the Appalachian League to a league championship.
In 1977, Keller managed the Arkansas Travelers of the Texas League; and in 1978, he managed the Gastonia Cardinals of the Western Carolinas League.
Keller is survived by his wife, Bertha Marie, a 1958 Texas Lutheran graduate. The Kellers have three children – Kevin, Kolin and Kerry.