National Beef Honored Veteran Employees with Inspired Tribute
Joe Denoyer - November 12, 2020 3:03 pm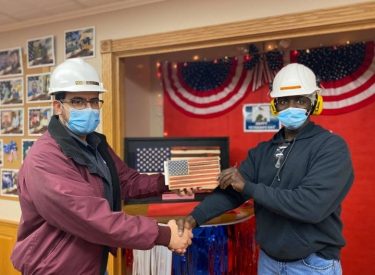 KANSAS CITY, MO. November 12, 2020 — National Beef Packing Company, LLC (National Beef) is pleased to announce its support of Flags of Valor, a business dedicated to remembering, employing and empowering military veterans, through the purchase of commemorative flags to honor employees who have served in any branch of the U.S. military.
On Veterans Day, as a token of gratitude for their service to the country, National Beef presented its more than 350 military veteran employees with a commemorative Flags of Valor personal desk flag. In addition, National Beef started displaying a custom, veteran-made wooden flag from Flags of Valor in each facility year-round, thanking the community for supporting veterans.
National Beef has a longstanding commitment to veteran support initiatives. This year's observance took place in nine cities, building on efforts from the last several years.
"During such an uncertain time in our lives, I am thankful that National Beef is continuing the tradition of celebrating their military veteran employees," said Frank Boyer, team leader in the 101st Airborne for the United States Army and now safety manager in Hummels Wharf, Pennsylvania. "Our team always looks forward to National Beef's special celebration of employees who've served our country. It's nice to know they support our dedication to our job and our country."
"National Beef recognizes the sacrifices military veterans make," said Arnie Van Berkel, staff sergeant, U.S. Air Force (1969-1975) and now field marketing manager "To receive a token of appreciation and acknowledgement this Veterans Day is special, and to know we're supporting Flags of Valor makes it all the more appreciated."