Nascimento Earns 2nd KJCCC West Player of the Week
Brock Kappelmann - October 19, 2016 4:19 pm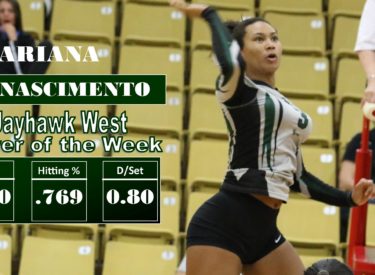 For the second time in three weeks, Seward County freshman Mariana Nascimento has been named the Jayhawk West Player of the Week in a league release on Wednesday.
Nascimento was about as consistent as you can be in a pair of Seward County wins this week, putting up matching 10 kill, 0 error, 13 attack hitting lines in victories over Pratt and Garden City. Nascimento did the trick in just two sets on Wednesday against the Beavers and did it again in a three set win over the Busters on Saturday. On the week she averaged 4.00 kills per set and hit an astronomical .769.
Nascimento and the Lady Saints will look to keep a four match winning streak alive tonight in the Greenhouse as they take on Cloud County at 6:30.
Roy Allen