Napoli's Italian Restaurant returning to Liberal
Joe Denoyer - August 1, 2023 10:34 am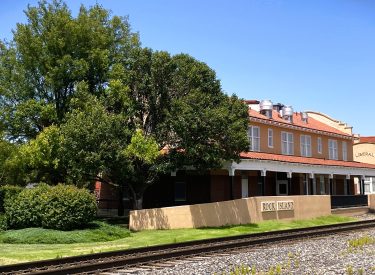 provided by City of Liberal and Seward County Development Corporation
Through collaborative efforts between the City of Liberal, Seward County Development Corporation and NetWork Kansas, a beloved Italian eatery is making its way back to the Liberal community. Napoli's Italian Restaurant, owned by Giovanni Dullovi, will soon open inside the historic Grier House located at 2 Rock Island Road.
Dullovi explained he has long contemplated reopening a location in Liberal. "I have so many close friends here, it's what sparked my interest in returning," Dullovi said, "Many customers eating at my other restaurant locations have begged me to come back to open a restaurant in Liberal."
Equipped with the authentic Italian cuisine recipes he learned as a child, more than 20 years of entrepreneurial experience, and his knowledge of the Liberal community, Giovanni knew the only critical components left to navigate would be securing financing and landing a property location to get started. That's when Dullovi became connected with the Seward County Development Corporation (SCDC) and the City of Liberal.
Raquel Arellano, Director of Entrepreneurship at the SCDC office, worked with Dullovi to develop his business plan and seek funding opportunities to assist with startup costs. Arellano was able to match him with an E-Community Partnership loan through NetWork Kansas, an organization aimed to assist entrepreneurial business development and expansion efforts in Kansas.
"It was an absolute pleasure collaborating with NetWork Kansas to bring Napoli's Italian Restaurant to Liberal, as their expertise and support played a vital role in making this venture a success," Arellano said. "Moreover, working with Giovanni Dullovi has been an enjoyable experience, as his passion for Italian cuisine and entrepreneurship made the project truly rewarding."
The Napoli's Italian Restaurant business plan was presented to the Seward County E-Community Board for further funding consideration and was approved to secure additional grant funds made available through the Patterson Family Foundation to provide a local match for his NetWork Kansas loan. The 7-member board oversees the Network Kansas funding programs available to Seward County businesses.
While working through his business plan, Giovanni was connected with the City of Liberal and discovered the building his business would soon call home.
"When we heard about Giovanni's ambition to open a restaurant, we knew our Grier House property would be the perfect downtown location to establish his business," Liberal City Manager Rusty Varnado explained. "We utilized state grants, local foundation donations, and a portion of the one-cent sales tax funding to renovate this unique, historical property in order to attract new businesses to our community. Providing this lease space for Napoli's to call home is part of our ongoing work to foster a welcoming environment for business growth and expansion in Liberal."
Damien Denmark, Director of Business Development at the Seward County Development Corporation, noted for businesses to be successful, taking time to get connected to resources prior to launching operations can have a lasting impact.
"Our office supports both new business startups and existing business expansion endeavors in a variety of ways," Denmark said. "We're here to guide entrepreneurs like Giovanni to create a strong business plan, explore financing options, and make meaningful connections with the City of Liberal and other regional resources in order to ensure their success."
Business owners and corporations from all industries are encouraged to get connected with the Seward County Development Corporation by calling (620) 604-5136, e-mailing [email protected], or visiting their office located at 303 N. Kansas Ave, Suite 102 in Liberal.