Naked Marathoner "Stunned"
KSCB News - May 3, 2011 4:42 pm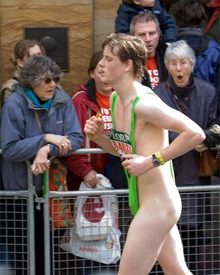 Police say a marathon runner didn't want anything weighing him down — including his shorts.
Authorities say Brett Henderson was running naked in a marathon race through downtown Cincinnati. Police tell reporters Henderson refused to stop running and was halted with a stun gun. Henderson's mother Lee says Henderson was wearing a pair of borrowed shorts that kept slipping as he ran. She says he was determined to complete the race.
Henderson is now charged with public indecency and
obstructing official business.