Multi-Family Residential Fire – 104 Harold Blvd.
Joe Denoyer - January 15, 2022 5:55 pm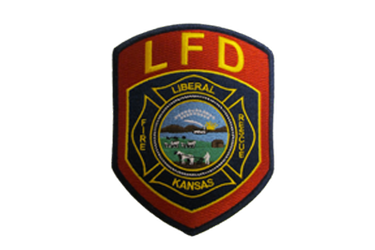 At 5:23 am Saturday the Liberal Fire Department was dispatched to 104 Harold Blvd. #19 for a reported structure fire.
The first arriving law enforcement officers reported that two units were fully engulfed and immediately began evacuating all adjoining and threatened apartments.
First arriving fire units encountered heavy fire through the roof of two apartments and a grass fire spreading through the courtyard driven by high wind conditions.  Firefighters were informed that all persons had safely evacuated the affected apartment building.  Attack lines were immediately placed into service and water supplies were established to engines operating from two different parking lot locations.  The fire had full control of the attic space above four apartments, firefighters made entry and began pulling ceilings to attack the fire and stop it from running the entire length of the building.  Firefighting efforts were hampered by high winds, icing of all surfaces and equipment and long hose lays necessitated by the layout of the apartment complex.  A mutual aid request was made to the Seward County Fire Department and they responded with apparatus and personnel to assist with fire control efforts.
The fire was declared under control at 6:24 am.  Three apartment units were destroyed by fire, smoke and water damage.  The remaining two apartments suffered smoke and water damage.  Five families have been displaced by the fire, but no injuries or fatalities are reported.
Firefighters remained on-scene until 12:14 pm extinguishing smoldering areas and investigating the origin and cause of the fire.  Liberal Fire Department investigators have determined the area of origin, but the investigation into the exact cause will likely be on-going for some time.  Anyone with additional information regarding this fire is urged to contact the Liberal Fire Department at 620-626-0128.
Liberal Fire responded with a total of 19 personnel, two engines and five support and chief officer vehicles.  The Seward County Fire Department responded with 4 personnel, one engine / tanker & two chief officer vehicles.  All units were cleared from the scene and returned to service at 1:38 pm.  Agencies also assisting at the scene were the Liberal Police Department, Seward County Sheriff's Office, Southern Pioneer Electric, American Red Cross & Liberal Water Department.