Mounsey Wills #5 Seward Past Independence
Brock Kappelmann - February 19, 2017 10:25 am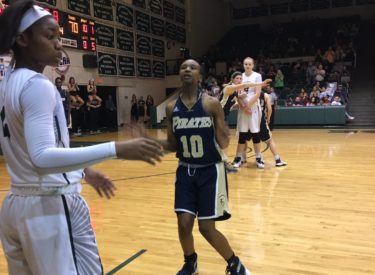 Lady Saints fans got more than they bargained for Saturday night in the Greenhouse as the #5 and 25-1 Seward County Lady Saints took on the 11-15 Independence Pirates on Homecoming night. The game was close throughout and was a one possession contest with under 2:00 remaining, but in the end, 24 points from Mollie Mounsey was enough as Seward survived the Pirate storm in a 78-70 victory for their ninth straight win.
Seward jumped out to a 6-0 lead to begin the game in front of their home crowd, but Independence battled back, tying the game at 10 midway through the first quarter. Up by one with 3:00 left in the first, the Lady Saints went on a 10-0 run, led by six points from Mollie Mounsey to open up a 26-15 lead before a late Indy three made it a 26-18 game after one.
A pair of threes from Neidy Ocuane and Erin Richardson early in the second stretched the Seward lead to double digits once again at 34-22, but the Pirates kept scrapping, going on a quick 7-0 burst to make it a five point game with 7:40 to go in the half. The game of runs continued as Seward scored the next six to push their lead to 40-29, but back to back threes from Independence once again made it a five point contest late in the quarter. The Lady Saints got another three from Ocuane late in the half and took a 10 point, 43-33 lead into the break at half.
Seward couldn't get into their flow early in the second half and Independence took advantage, cutting the Lady Saints lead to just two at 43-41 three minutes in. A big three from Mounsey broke the Seward scoring drought and another triple from the sharpshooter moments later made it 49-44 Lady Saints. Back to back threes from Ocuane and Mounsey late in the quarter pushed the Seward lead to 10 once again, but Independence answered with a late hoop of their own to finish the third outscoring Seward 21-19 to make it a 62-54 game after three.
A scrappy Independence squad never let the Lady Saints take a breath as the fourth quarter got underway. The Pirates scored the first four of the final period to quickly cut the Lady Saints lead to just four at 62-58. A big jumped from Brennyn Seagler made it a six point game, but midway through the period, the Pirates had the Seward lead back down to four at 66-62. Independence cut it to a two point game with 2:20 remaining on an eight foot jumper, but Joanna Grymek responded with an offensive rebound and putback for Seward to make it 72-68 moments later. With their crowd behind them, the Lady Saints defense turned it up from there, holding the Pirates without a field goal for the final 2:20 to extend their lead and finally finish off Independence 78-70 for their 26th win of the year.
Independence actually outshot Seward 47% to 36% in the game, but the Lady Saints forced the Pirates into 23 turnovers and gave it up just 10 times themselves to hang on for the win. Mounsey put up a game high 25 points and also had a team best 8 rebounds and 6 assists in the win. It marks the eighth straight game of 20 or more points for Mounsey, the first Lady Saint to do that since Rachel Barnes in 2010. Ocuane finished with 17 points and 8 assists for Seward while Seagler had 14 for the gals in green.
Seward County improves to 26-1 overall and 22-1 in Jayhawk Conference play with three games to go. With a Hutchinson win over Cowley in Arkansas City Saturday afternoon, the league raced now seems poised for a tie between the two titans. Independence falls to 11-16 overall and 8-15 in league play, all but eliminating them for contention for a Region VI Tournament home game.
The Lady Saints will be on the road for their two contests next week at Colby and Dodge City before returning home on February 27th for a date with Garden City to close out the regular season.
#5 SEWARD COUNTY/INDEPENDENCE BOX SCORE<http://www.sewardsaints.com/sports/wbkb/2016-17/boxscores/20170218_3vaz.xml?view=boxscore>
Roy Allen