Mounsey Nets Second National Player of the Week Honor
Brock Kappelmann - March 10, 2017 6:45 am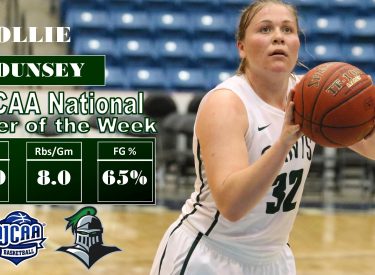 There was a bit of bright news shining through after a tough defeat for the Seward County Lady Saints Wednesday night in the Region VI Championship game, as for the second time this season, sharpshooter Mollie Mounsey was named the NJCAA National Player of the Week following her 40 point performance last week against Garden City.
Mollie Mounsey put up a historic performance for the Lady Saints in their final Jayhawk Conference game of the season Monday night, tying a school record with 10 three pointers while becoming the first Seward freshman to ever score 40 points in a game as the Lady Saints wrapped up a Jayhawk Conference Championship against the rival Busters. Mounsey finished 13 for 20 from the field and 10 for 16 from three point land in the win, good for 40 points, making her one of just three players in school history to reach the mark.
Mounsey is the first Seward player to receive the award twice in a season since Tegan Cunningham in 2008.
Mounsey and the Lady Saints are now playing the waiting game, sitting by the phone awaiting a call from the NJCAA about their at-large status for the NJCAA National Tournament beginning on March 20th in Lubbock.
Roy Allen