Mounsey Named Jayhawk Player of the Week
Brock Kappelmann - February 1, 2017 7:32 am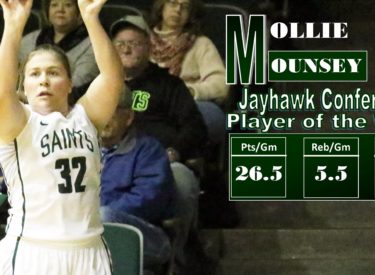 For the second time this season, Seward County freshman Mollie Mounsey has been named the Jayhawk Conference Player of the Week as announced by the league on Tuesday.
Mounsey led the Lady Saints to a pair of key road wins this week, averaging 26.5 points and 5.5 rebounds per game while shooting 49% from the field. Mounsey opened the week with a 23 point, 8 rebound performance on the road at Cloud County and followed that up with a career high 30 point effort Saturday night at Barton, going 7 for 12 from the three point line against the Cougars. Mounsey has splashed home 81 three pointers already this season, second most of any player in the NJCAA this year and 4th most in a single season in Seward County history.
Mounsey and the Lady Saints will get back after it on Wednesday when they host the Pratt Beavers at home in the Greenhouse on Hispanic Heritage Night at 6:00. Free tickets are available courtesy of our buyout sponsor First National Bank at their Liberal locations as well as at Burger King, Braums, and Loves in Liberal.
Roy Allen