Mounsey & Grymek Named NJCAA All-Americans
Joe Denoyer - April 14, 2017 1:39 pm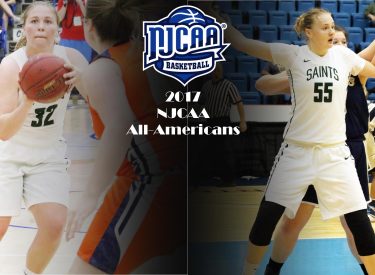 With the traditions of Jayhawk Conference Championships and top five finishes at the NJCAA National Tournament continuing for the Seward County Lady Saints this season, another tradition continued its path as well as Friday, Lady Saints Mollie Mounsey and Joanna Grymek were named All-Americans, Mounsey a First Team selection and Grymek a Third Team selection by the NJCAA. 
Mounsey becomes Seward's first freshman to receive All-American honors since Saints Hall of Famer Tegan Cunningham pulled the trick 10 years ago in 2007.  She put together one of the best individual seasons in Seward County history in 2016-2017, pouring in nearly 700 points on the year at a clip of 19.9 per game, while raining in 143 three pointers, which was 28 more than any other player in the nation this season.  Mounsey was the Jayhawk Conference Most Valuable Player and the conferences Freshman of the Year this season, leading the league in scoring while leading Seward to a Jayhawk Conference title.  The model of consistency, Mounsey scored in double figures in all 35 games for the Lady Saints this season, including 18 efforts of 20 points or more.  Her breakout game came in Seward's regular season finale when she put up a Lady Saints freshman record 40 points and tied a school record with 10 three pointers as the gals in green sewed up the Jayhawk Conference Championship against Garden City on their home floor in the Greenhouse. 
Grymek caps her Seward career with quite the story after walking on for the Lady Saints two seasons ago and garnering All-American honors as she walks out this Spring.  A force on the inside for the Lady Saints this season, Grymek averaged 15.4 points and 8.6 rebounds per game while also blocking 3.1 opponent shots per night.  Grymek's 105 blocked shots this season led the NJCAA Division I ranks while her 178 career blocks are second to only Margaret DeCiman in Seward County history.  Grymek finished with 10 double-doubles on the year including two in the NJCAA National Tournament to earn her All-Tournament Team honors in Lubbock.  Arguably her best effort of the season came in Seward's final game of the year as she poured in 26 points on 10 of 14 shooting and ripped down a career high 16 rebounds against the eventual National Champion Gulf Coast Commodores. 
Mounsey and Grymek become the first Seward duo to receive NJCAA All-American honors in the same season since Whitney Pegram and Amanda Foster did so in 2005.
Other Jayhawk Conference players to be named to the All-American teams were Cowley's Amy O'Niell and Bride Kennedy-Hopoate who were 3rd team picks with Grymek.