Moscow Run-Rules Valley Falls
KSCB News - May 29, 2009 12:00 am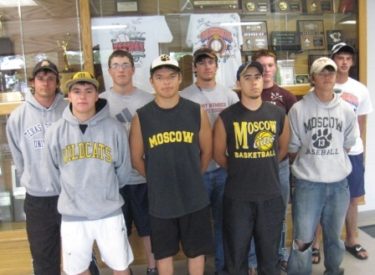 Moscow beat Valley Falls 13-3 in five innings Friday in Emporia. Dexter Hittle (8-0) pitched the distance for the win after allowing four hits, striking out four, and walking three. Hittle was also 3-4 with two doubles. Taylor Roop had an RBI double and Jace Moore wacked a two RBI single. The 24-0 Wildcats play Salina Sacred Heart Saturday morning at 10:00 AM at Soden's Grove in Emporia.
Friday's Preview Before 1st Round Game
The Moscow Wildcats play in their third straight 2A state tournament Friday in Emporia. The Wildcats play 15-5 Valley Falls today at 11:00 AM. The Wildcats are led by seniors like ss/p Anthony Hernandez (.439, 4 hr, and 15 rbi); p/c Jace Moore (.583, 5 hr, 31 rbi, and 8-0); outfielder Jaime Haldonado (.241, 2 hr, and 11 rbi); 1b Thaine Whitham (.244 and 5 rbi); cf Omar Miramontes (.440, 5 hr, and 22 rbi); 3b/p Dexter Hittle (.400, 3 hr, 24 rbi, and 7-0); lf Cory McCurry (.265, 2 hr, and 14 rbi); and Taylor Roop (.304 and 10 rbi). Freshman of, p, 3b, and c Ty Herman (.511, 1 hr, and 19 rbi). Moscow is 23-0.