Moscow has New Look in 2023
Brock Kappelmann - August 24, 2023 1:26 pm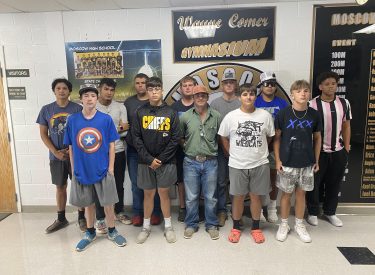 The Moscow Wildcats have a new look and a new head coach in 2023.  After Brett Harp's retirement, Ben Clark steps in as the head coach at one of the strongest 6 man schools in the state.  Clark was an assistant under the venerable Harp last season when the Wildcats were 4-4.    There are 14 players out for football with just one starter returning on both sides of the ball.
Some of the key Moscow players are Sr. RB/MLB Aidan Cullison, Sr. TE/DE Chance Noland, So. lineman Hayden Clark, So. RB/FS Daniel Gomez, and So. QB/LB Quinton Franklin.
The Wildcats were featured during Sportsguys on Thursday morning.
Schedule
September 1- Pawnee Heights
September 8- Cunningham
September 15- at Tri-Plains
September 22- at Ingalls
September 29- Deerfield
October 6- at Ashland
October 13- at Weskan
October 20- Rolla (102.7)
October 26-27   Playoffs