More Extra Inning Heartbreak for BJ's
KSCB News - July 14, 2013 9:48 am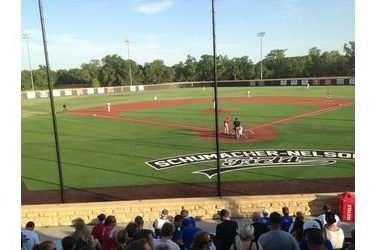 Liberal's Justin Bethard and Hays' Chandler Hawkins hooked up against one another for a third time Saturday night in a 2-1 Hays win over Liberal. Both had won games against the other this season with Bethard winning 6-1 last Saturday in Liberal and Hawkins winning 5-3 over Liberal June 18 in Hays. Last night both pitchers went eight and 2/3 innings in no decisions.
Hays scored one run on four hits in the first and Bethard didn't allow another run. Liberal scored in the eighth when Jason Dahl singled home Jon Mestas. Hays scored a run in the bottom of the tenth to win it when Cody Daily singled to right.
Liberal falls to 1-3 in extra inning games and 0-3 on the road. Hays' Hawkins is 3-1 against Liberal.
The Bee Jays are 18-15 overall and 12-15 in the Jayhawk while first place Hays is 24-9 overall and 17-9 in the Jayhawk. The same two teams meet at 7 Sunday night at Larks Park in Hays on 1270 and kscbnews.net.