Moran Cleared Of Ethics Violations
KSCB News - June 18, 2010 12:00 am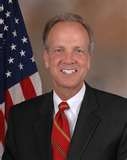 U.S. House ethics investigators have ended a
review of Kansas Congressman Jerry Moran and the rent he pays at a
Washington home.
The Office of Congressional Ethics sent the Republican lawmaker
a letter Thursday saying there was no probable cause to believe an
ethics violation had occurred.
The letter said the review of questions about paying
below-market rent has ended. Moran's staff made the letter public.
A group called Citizens for Responsibility and Ethics in
Washington filed an ethics complaint in April. The group alleged
that Moran and several other members of Congress who pay $950 a
month in rent are receiving an improper gift.