Moos Keep Bee Jays at Bay
Brock Kappelmann - June 12, 2021 6:45 am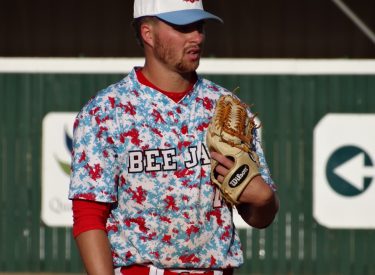 The Liberal Bee Jays took a loss for the first time this season.  The first year Wichita Moos came to Liberal's Brent Gould Field and beat the Bee Jays 5-3.  Liberal did not score until the ninth inning of the loss.
The Moos took advantage of a BJ error and two BJ walks to score three runs in the second against Liberal starter Braxton Hyde.  A lead off triple led to another Moos run in the fifth to give the Wichita team a 4-0 lead.  Liberal pitching walked three and beaned one as the Moos scored another run in the sixth.  The Bee Jays placed their first two runners on base in the eighth but couldn't score.  Liberal finally scored in the ninth.  Cayde Ward and Aidan Shepardson singled to lead off the ninth.  Blaine Thomas was beaned by a pitch.  Quintt Landis singled to drive home a run.  Ryan Proctor grounded to second to drive home a run.  AJ Folds drove home a run with an infield single.
Braxton Hyde pitched five innings allowing four runs but just two were earned.  Kyle Duffey was the Epic Touch Player of the Game going 2 and 2/3 scoreless innings.  Rafferty Brown pitched a scoreless ninth.  Liberal out hit the Moos 8-6 but committed two errors compared to the Moos one error.  Liberal pitching walked eight.
The game was played on a night when the wind was blowing straight in.
Liberal is 4-1 overall and 3-1 in the Kansas Collegiate League.  They remain 3-0 in the Jayhawk Division as the Moos are a non division opponent.  The Moos are 5-3 and remain 4-1 in their Walter Johnson Division.  The same two teams meet Saturday night at 7 at Brent Gould Field with the BJ Dugout Show at 6:45 on 1270 and kscbnews.net.  Hornung Family Funeral Home is the game sponsor so admission is free.