Monument Rocks Bid Hits $8.5 Million
KSCB News - September 7, 2012 3:14 pm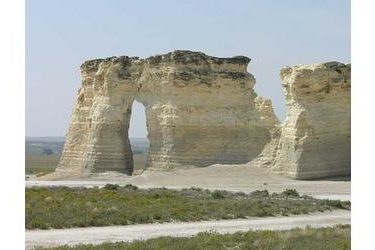 Bidding for a western Kansas ranch that
contains historically significant chalk formations has ended with a
high bid of $8.5 million.
But that doesn't mean the sale of the 12,900-acre Pyramid Ranch
in Gove County is final.
Auctioneer Mark Faulkner, whose Ulysses firm handled the sale,
says the owners of the ranch will now decide whether to accept the
bid or negotiate with the prospective buyer.
The $8.5 million bid — almost $658
an acre — was submitted about noon Wednesday.
The ranch contains Monument Rocks, a National Natural Landmark,
as well as other historic and cultural artifacts.
The buyer's name is expected to be made public once a contract
is signed or a deed filed in Gove County.