Montezuma Man To Replace Huelskamp In Senate
KSCB News - December 28, 2010 7:17 am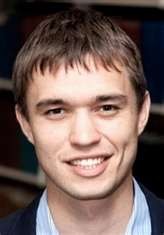 A Montezuma man who won a seat in the
Kansas House in August has been chosen to fill an empty seat in the
state Senate instead.
Garrett Love was elected Monday in Ford County to replace state
Sen. Tim Huelskamp in the 38th District in the Kansas Senate.
Huelskamp will take Rep. Jerry Moran's seat in the U.S. House.
Moran will replace outgoing Sen. Sam Brownback when Brownback
becomes governor in January.
Love defeated former state Rep. Melvin Neufeld during a
nominating convention hosted by the Ford County Republican Central
Committee in Dodge City. Love also defeated Neufeld in August in
the August primary for the GOP seat in the Kansas House.
The Dodge City Daily Globe reports that a convention to fill
Love's vacant seat in the Kansas House is tentatively set for Jan.
7.