Monday's Middle School
Brock Kappelmann - October 31, 2017 6:21 am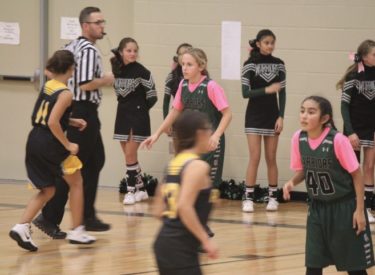 Monday night the warriors took on Seymour Rogers in their home gym. The B
team started the night Victorious was a 24 to 12 win. Leading the Warriors
was Priscilla Vela With eight points and eight rebounds. Lesly Avila also
put in eight points in the win and pull down five rebounds along with six
steals in the game. Ashlynn Wagenseller had 4 points. Josie Hall and Ella
Friederich each had 2.
The A-Team came away with a dominating win with the score of 48 to 12.
Lexi Hensley blew up in the game scoring 21, pulling down five rebounds
and adding 4 assists. Lizzy Cisneros had 8 points. Rachelle Terrazas and
Priscilla Vela each added 5. Naomi Macias had 4 points. Jenna Ormiston
also had 4 points and pulled down 6 rebounds and had 4 assists. Harley
Ewalt had 3 points and Hallie West with 2. The girls don't play again
until next Tuesday when they travel to Guymon to take on the Tigers.
8th
Last night the Eisenhower Lady Warriors took on their cross town rivals the
Seymour Rodgers Lady Apaches. The Lady Warriors came away with another
convincing win over the Lady Apaches by a score of 54-6.
Leading Scorers:
Ashley Carrillo 32pts
Kaitlin Stoney 7pts
Caitlin Carlile 5pts
Leading Rebounder:
Kaitlin Stoney 5reb
Caitlin Carlile 5reb
Leading Assist:
Bree Horyna 7
The Lady Warriors take on Guymon next week Nov. 7th.