MLB All Star Kinsler had Humble Beginnings in Liberal
KSCB News - July 3, 2012 3:00 pm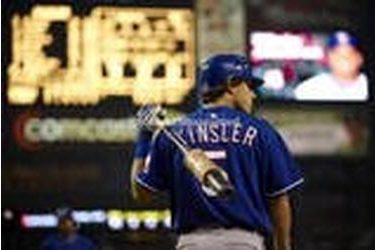 Ian Kinsler was a good player for the Liberal Bee Jays in 2001. He was a slick fielding shortstop who hit a respectable .280 with, 19 RBI's, 11 doubles, one triple, and three stolen bases for the 30-28 Liberal Bee Jays who were 19-21 in the Jayhawk League under head coach Jon Wente. But most people in 2001 didn't expect this. The Texas Ranger 2nd baseman was named to his third all star game this weekend. Kinsler is hitting .276 with nine homers and 40 RBI's. He has 26 doubles for the Rangers who have the best record in baseball.
In 2001, Kinsler was part of Jon Wente's Central Arizona connection which brought in the likes of Scott Hairston and Rich Harden from the NJCAA program which Wente coached. Kinsler batted eighth for a team which went 3-2 at the NBC World Series. Kinsler was 6-17 in the tournament helping the BJ's to a 7th place finish at the NBC World Series.
Kinsler's 11 doubles tied him for the team lead with Cory Patton and Nick Sorenson. His 47 hits trailed only Brandon Fucilier's 51 hits that season.