Middle School Results
Brock Kappelmann - December 14, 2020 6:33 am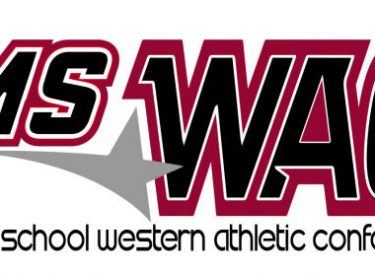 Lady Warriors opened up the WAC tournament facing Great Bend Panther and
losing a hard fought battle 22 – 11. The Lady Warriors then faced Dodge
City Middle School for 3rd place. The Lady Warriors were trailing at the
half and came back in the 4th quarter scoring 17 points. Lexi Miller hit a
3 pointer to tie the game. The Lady Warriors pulled out the win 29 – 24.
Leading in scoring was Zoey Torres with 9 points, Abbi Lopez with 6 points,
Lexi Miller with 5 points, Isabella Gutierrez with 3 points, Janelle
Potter, Hannah McCarter, and Hayleen Martinez with 2 points. —
Nancy Hines
Saturday the Eisenhower 7th grade Lady's traveled to Great Bend to compete in the final segment of the MSWAC Tournament.
The Lady Warriors fought hard in the opening game vs #1 seeded Hays. The Lady's found themselves trailing by 10 after the first quarter. The second and third quarters the Lady Warriors came to life playing good defense and getting points on the board. Aaliyah Morales once again added two three pointers to help keep some pace with Hays. NaZaiah Williams also added some great defensive plays and hustle. Overall The Falcons proved too talented to stop advancing with a 19-42 win. Scoring for the Warriors included Aaliyah Morales 10 pts, Jenavee Zuniga 3 pts and Adamaris Lopez, NaZaiah Williams and Aleczis Green scoring 2 pts each.
In the second game for third place, the Lady Warriors matched up against the Dodge City Cardinals. The Lady's opened the first half shooting a dismal 10% from the field. Luckily, they only found themselves trailing 15-4 at intermission. The Warriors, however, were not able to get a rhythm going offensively in the second half. They finished the game on the downside 14-24. Scoring for the Ladies this contest was Kylie Nguyen with 6 pts, Aaliyah Morales 5 pts, Kaiden Brant 2 pts and Aleczis Green with 1 pt.
I'm proud of the way the girls responded toward the end of the season. They showed good hustle, moved the ball around looking for open shots.
James Babinec
From Coach Kelley –
Last night the SRMS Lady Apaches wrapped up their season against the Dodge
City Middle School Lady Cardinals. The Lady Cardinals came out strong
scoring nine unanswered points in the first half. The Lady Apaches would
answer back quickly at the beginning of the second quarter Kaylie Burciaga
would score two points on a jumper. The score would be 14 to 2 in favor of
the Lady Cardinals at the half. The Lady Apaches would come out and score 2
more courtesy of Amelia Alarcon the final score would be 30 to 4 with the
Lady Cardinals taking the win. "The growth this team has shown in the last
season would make any coach proud. I look forward to seeing what this group
does in the future." Coach Kelley
Wrestling
On Saturday the Eisenhower Warriors completed their season in Hays at the MSWAC tournament. As a team the warriors scored 95 points and placed 4th. Individually the coaches are proud to tell everyone that we did have 1 WAC champion wrestler. At 141 pounds Alex Schwindt became a Champion on Saturday receiving a gold medal! Alex was 9-2 on the season and dominated at the tournament getting the championship sealing pin in just 16 seconds!! Other warriors medaled as well. Bryan Casas (85) Ayden Juarez (127) and Franco De La Cruz (180) all lost in closely contested championship matches and placed 2nd. Skyler Hubbard (100) And Hugo Sanchez (265) also medaled taking 3rd.