Middle School Results
Brock Kappelmann - October 4, 2017 6:34 am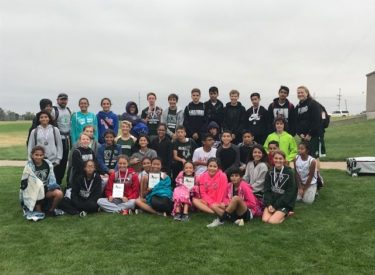 Monday, 10/2/17, SRMS 8th grade Lady Apaches traveled over to EMS for a
dual. Lady Apaches came up short losing 18-25 and 11-25. 8th grade A teams
record is 8-9 and plays a dual vs Guymon at SRMS today (10/3/17).
Tuesday Seymour Rogers volleyball
SRMS 8th Grade A team went against Guymon Monday night at SRMS to end our
regular season schedule. The Lady Apaches fought hard and came out strong,
pulling everything together they've worked hard on every practice. Angela
Hernandez and Yosiery Gutierrez each served up 8 in a row. Abrianna King
served the final 6 points in set 3. All the girls played very well and
fought for their last home court win. SRMS 8A finishes their season with a
9-9 record. Next up is MSWAC tournament on Saturday in Garden City.
SRMS 7th on Tuesday
Seymour Rogers 7th grade had their final home game volleyball dual vs
Guymon.
The A team won the first set 25-11,Andrea Torres set the tone with 8
straight aces to give the ladies a early 10-2 lead and Rylie Hallman closed
the door with 8 straight points, guymon won the second game 16-25, but the
Apaches finished off the tigers 15-6 with Rylie Hallman scored 11 straight
serves for the win . The Apaches will finish the season at Great Bend for
the mswac tournament.
B team won 25-8,25-6
EMS XC team traveled to Dodge today to run a hilly, frigid course. As a team we went 3 for 4!
Seventh grade girls finished in 2nd place to a very good Hays team, losing by just 8 points! Medalist include Ava Maxwell in 8th and Hallie West in 3rd.
Seventh grade boys finished in 1st for their 6th time this season! Medalist include: Josiah Perez 10th, Anthony Castilleja 9th, and Gideon Wright in 5th.
Eighth grade girls finished in 1st place for the 6th time this season! Medalists include: Joceline Hernandez 8th, Helena Combs 7th, and Jackie Hernandez 4th.
Eighth grade boys finished in 1st place for the 4th time this season! Our lone medalist was Coby Tran who finished in 5th place!
Next up most of our team of 74 will travel to Cimmarrom on Thursday, while 28 runners next race will be our league meet at Arkalon campground beginning at 10:00 am.
Brandi Fowler