Middle School Results
Brock Kappelmann - September 21, 2020 1:33 pm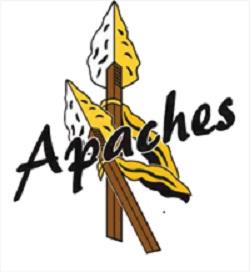 7A From Coach Kelley –
The Lady Apaches faced the Eisenhower Warriors. The Seymour Rogers Apaches
came out strong and quickly took the lead the Warriors caught up to make
the score an even 25-25 however the Apaches took the last two points
winning the first set 25-27. The Warriors would take the next three sets
straight taking the match 3-1. Both teams agreed to play the fifth set and
the Lady Apaches would rally and pick up the win and take the fifth set
15-13. The Lady Apaches saw improvement and took home a win on two of the
five sets.
7B from Coach Taylor –
Karyme, Alexis and Alyra did really good scrambling to get to the ball a
few times. We are doing a lot better with serving and passing!
8B from Coach Swanson –
Our wonderful 8th Grade Lady Apaches took 1st place in the Kepley Invitational Volleyball Tournament. Kamilah Delgado and Alizza Castro worked well together at the net all day, with all girls working together to get each win. Anayeli Marta had an awesome 13 consecutive serves, with backup from her teammates, bringing us to the final win needed to take the championship.
Hugoton W 15-10, W 15-11
Cimarron W 9-15, W 12-15
Kepley 1 W 13-15, W 8-15
Guymon W 15-13, L 11-15, L 13-15
Kepley 2 W 15-11, W 15-2
7A from Coach Kelley –
First Match
The Lady Apaches A team faced Guymon for their first match. They lost the first set 15-11. The second set the Lady Apaches were down 10-14 but came from behind taking the second set forcing a third set. We started out pulling ahead then fell behind. Guymon took the first match 2-1.
Second Match
The Lady Apaches took Eisenhower the first game in bracket play. We pulled ahead quickly but some mistakes caused the Warriors to take the lead losing the first set 15-12. The second set started out with the Warriors taking the lead the Apaches trailed but caught up quickly but Eisenhower Warriors pulled away again taking the Match 15-10. Ending Saturdays contests
7B from Coach Taylor –
We played Guymon first and lost 5-15, then 8-15. We played together well as a team, and Sarahi stepped up helping get serves over! We then played Cimarron and lost 6-15, and 0-15. We struggled returning the ball, but are ready for our next game Monday.