Middle School Results
Brock Kappelmann - January 29, 2020 7:10 am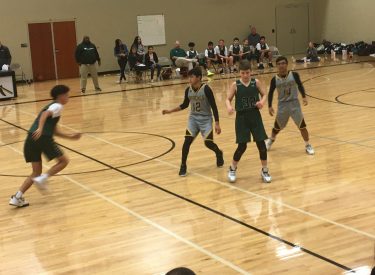 Monday night the Eisenhower Boys 7th grade team traveled cross town taking
on the Apaches.   The Warriors came out strong with a ten point advantage
at the half. They continued to play well through the third leading 36-21.
The Apaches contered strong in the fourth closing the gap to 5, but the
Warriors held on to a 39-32 victory.
I'm proud of the way the boys came out tonight. The first few games they/ve
been tentative and trying to find their identity. They showed up well
tonight. On both sides of the court (for three quarters) we played with
energy, urgency, passing and finishing well.   Tyren Holmes had a great
second quarter and played a key role in opening things up for us. Breton
Spikes also played well in the first half hitting four three pointers.
Stat-wise, everyone contributed. Whether putting points on the board,
rebounds, or steals. it was a true team effort.
Leading the Warriors scoring included Breton Spikes 16, Oscar Montes 6 and
Alex Schwindt 4.   Tyren Holmes, Uriel Ortiz, Alex Schwndt, and Jadon
Sauter each pulled in 4 rebounds.
The Warriors travel to Guymon Thursday and to Hays on Saturday.
Seymour Rogers
7A from Coach Kachel –
SRMS Apaches 7th grade basketball loses a battle with Eisenhower Warriors
32-29. Jakyree Washington led the scoring for the Apaches with 16 pts.
Hudson Rice added 8 pts. SRMS trailed 12-22 at half and 21-36 after 3
quarters. The Apaches out-scored the Warriors 11 to 3 to pull within 5
points late in the 4th quarter.
7B from Coach Richards –
Faced a tough rival tonight and the Apaches fought well most of the game.
Alexsis Galindo was our top scorer with 8 points and made all of them from
the block. Junior King helped on offense with 4 points and Sergio Aguliar
scored 2, along with Deangelo Denton, and Orlando Munoz with a 3 pointer.
Enrique Morales made one free throw but we still lost 20-27 tonight to
Eisenhower. The entire team helped in our zone defense and contributed and
we have some potential for Saturday's games in Hays.