Monday and Tuesday Middle School Results
Brock Kappelmann - September 26, 2017 1:14 pm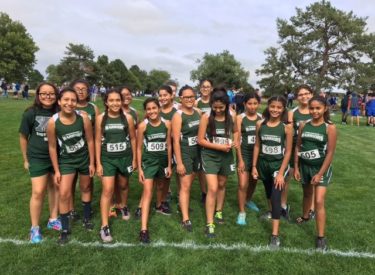 Tonight the other 1/2 of the EMS XC team traveled to Guymon to take on a
very tough 2 mile course that had lots of hills and rough ground to run on.
There were two races middle school girls took to the course first. Seventh
graders and eighth graders competed against each other in the same race.
The Lady Warriors would not be intimidated by the hills or the 2 mile
course and finished in 1st place out of 10 teams with a score of 35!
Medalist include: 7th grader Ashlynd Winchell 13th, 8th grader Joceline
Hernandez 8th, 8th grader Helena Combs 6th, 8th grader Jacqueline Hernandez
5th, and 7th grader Hallie West finishes in 3rd place. This was the first
two mile race for both Ashlynd and Hallie!
Our boys came to represent as well. They competed in the same format as the
girls. They also took 1st place out of 10 teams with a score of 69!
Medalist include: 8th grader Iram Camacho in 17th, 7th grader Anthony
Castiellja 15th, 7th grader Gideon Wright in 14th, 8th grader Logan Miller
in 13th, and 7th grader Josiah Perez finished in 10th. This was the first
two mile race for Anthony, Gideon, and Josiah!
Way to go Warrior XC you continue to put in the work that creates great
results! Next up this crew will travel to Dodge City on Tuesday for another
challenging course full of hills.
SRMS 8th grade went 1-1 at Hays on Monday, 9/25/17.
vs.Hays — LOSS
set1: 18-25
set2: 12-25
vs. Great Bend — WIN!
set1: 16-25
set2: 25-23
set3: 15-12
Girls played well throughout the day. Some serving and passing errors hurt
us in both games. Angela Hernandez had a great day at the net along with
some good, hard serves. Abrianna King also had some good serves. All in
all, the girls played well! Very proud of these girls! Next up, we travel
to Guymon on Thursday 9/28/17 for a dual vs Guymon. Record now is 7-8.
—
*Heather Olmstead*
Eisenhower
Lady Warriors improve their record to 17-0 by beating Great Bend and Hays.
Score for the Great Bend game was 25-10 and 25-6. Lizzie Cisneros served 8
times with 4 aces and came up big in both games playing some tough
defense. Lexi Hensley recorded 3 kills with 5 aces and is beginning to hit
harder angles than she ever did before finding spots that defenders are
having a hard time digging. Jenna Ormiston is probably the best first
server that I have ever had, she is so calm and collected when serving that
she makes her service look so easy. Being the first server has a lot of
pressure all its own, but she always rises to the occasion. Rachelle
Terrazas and Katie Classen, my two setters, are continuing to set up their
hitters by getting to the ball every time. I always say that a setter is
the heart of the team without all the glory, they make others look good and
these two do just that. Alondra Garcia, Naomi Macias, and Harley Ewalt are
putting in work in the middle position and coming up with key plays when we
need them by playing tough defense and putting down the ball when needed.
Versus the Hays team I think we surprised them and jumped out into an early
lead 8-1 having them call a timeout and the Lady Warriors finished that
match 25-10. Second match Lady Warriors had a lead of 10 and Hays turned
up the hard serves and we were unable to break the serve. I even called a
timeout and as most of my players know I never call timeouts unless I
absolutely have too. Hays fought back to 21-23, but we finished them with
the final score 25-23.
I say to my team over and over that hustle and effort out win talent any
day and they are showing me the true meaning of grit. While other teams
are getting better so is mine and everyday they continue to work harder
than they did before. Another key to our win is they trust each other and
seem to geniunely like each other. When they have fun and played relaxed
is some of the best volleyball I have seen at this level. My ladies do not
want to fail each other because of the high standards they set for each
other. One team. One family.
Lady Warriors travel to Seymour Rogers on Monday and 7A goes to SWH on
Tuesday, finishing up their season at the MSWAC tournament on Oct. 7 again
at Great Bend.
7B versus beat Great Bend 25-20, 25-5. 7B lost to Hays, 25-17, 25-9.
Nubia Rodriguez, Sasha Ricks, and Lesly Carillo stepped up big playing the
net hard and hustling after every ball. Even in their loss the Lady
Warriors hustled and are using their loss as momentum for things to work
for in the next games to come.
Jodi Malick