Middle School Results
Brock Kappelmann - September 27, 2019 7:30 am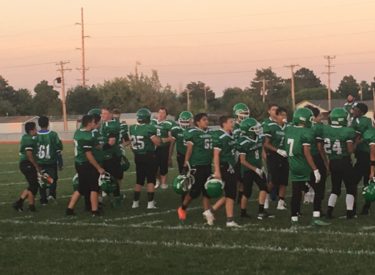 Eisenhower Football
8th started slow in fumbling the opening kickoff. Dodge City was able to
capitalize and score in 4 plays. Dodge City went up 14-0 before Eisenhower
got on the board. Mekhi Huskey was able to get behind the defense on a pass
to make 14-6 right before half. Dodge City started the scoring in the
second half on a run to go up 22-6. Eisenhower then clawed back into the
game. Mekhi was able to score 2 more TDS and Zayden Martinez was able to
score a touchdown on all by way of passes. Eisenhower held on for the win
24-22 in a hard fought battle.
—
*Kerri Miles*
The 7th Grade Warrior football team cruised yesterday against the Dodge City Comanche Coyotes 36-0 last night at home. The Offense started off fast with a score on a 4 play 58 yard drive capped off by a 38 yard touchdown run by Alex Schwindt who also had a successful 2 point conversion. The defense got a quick turnover inside the red zone and the warriors scored on a 3 play 12 yard drive capped off by a 3 yard Plunge by Ayden Juarez to give the Warriors a 14-0 lead. Their next drive the warriors scored on a 4 play 36 yard drive capped by a 34 yard scramble by Alex Schwindt on 4th and 17 the warriors converted the 2 point conversion and made it 22-0. Their final drive of the 1st half was an 8 play 43 yard drive capped by a 7 yard Juarez scamper making the score at halftime 28-0. The warriors would add one other touchdown on a 7 play 47 yard drive ending in Juarez's 3rd TD of the night. The warriors defense shuts out the opposing offense for the 4th straight game and add 2 fumble recoveries from Tyren Holmes and Cruz Naverette and 1 interception by Anthony Aragonez. The 4-0 warriors will travel to Horace Good Next week.
The 8th grade football team dug out of an early 14-0 hole after the first quarter coming away with a heart stopping 24-22 win over the Coyotes. Mekhai Huskey paced the warriors with 3 receiving touchdowns from Brooks Kappelmann. But the biggest play of the game came with 1:43 left in the game when Kappelmann connected with Zayden Martinez over the middle for a 17 yard strike that gave the warriors their first lead of the game and the only one they would need as the defense shut down the Coyotes to secure a Victory. Defensively the warriors got two gigantic fumble recoveries one by Gus Hink and the other by Blake Miller. The warriors are now 3-1 and will also travel to Garden next week to play the Horace Good Hawks.
Cody Hickox
Seymour Rogers
7th Grade lost 32-8 against Hays, Eziah Rodriguez had the only TD of the
game for SRMS.
8th Grade had opportunities to put points up but were denied in the red
zone. Hays scored on a pass play that stunned the apaches early and really
never recovered from. Haret Huerta had the only TD of the game for the
Apaches. Final, 30-6
—
K. Shuck