Middle School Results
Brock Kappelmann - September 13, 2019 6:42 am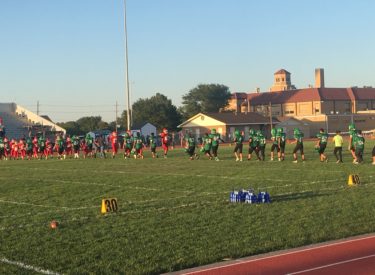 Eisenhower Football
8th
Hugoton came out of the gates against Eisenhower going up 14-0 in the first
quarter on a run and a big pass to end the quarter. EMS clawed back in the
second quarter and Mekhi Huskey started off the second quarter with a 50
yard pass from Brooks Kappelmann to make the score 14-6 at the half. After
some adjustments EMS started off the half with the ball and drove down the
field to tie the score with a 2 yard run from Ivan Moreno. Mekhi Huskey
then tied the game after several penalties on the conversion to make the
score 14-14. Hugoton then drove down the field and scored on a run to make
the score 20-14 after not converting on the conversion. Eisenhower then
started to air it out and Kappelmann hit Zayden Martinez with a 67 yard TD
pass to tie the game at 20-20. EMS was not able to convert the 2 point
attempt. Hugoton tried to make a last minute score and Zayden Martinez
picked off a pass to give the ball back to EMS with 1:38 in the game.
Eisenhower drove down the field and ended up in a 4th and 6 with under 30
seconds in the game. Brooks Kappelmann then threw a game winner to Mekhi
Huskey for the game winning Touchdown with 19 seconds left. EMS converted
the 2 point attempt to make it 28-20. Eisenhower held on to win and will
play at Great Bend next Thursday.
7th
The Eisenhower seventh grade football team traveled to Hugoton yesterday to take on the Eagles. The warriors scored on their second possession after forcing an late first quarter fumble caused by Ayden Juarez. 3 plays later QB Alex Schwindt ran off the left side for a touchdown. From there on it was the warrior defense that time and time again shut down the Eagle offense lead by ILB Landon Martinez and Tackle Tyren Holmes. With 45 seconds left in the game the Eagles burst for a 47 yard run in which Alex Schwindt made a game saving tackle. The Warriors prevailed against the Eagles 6-0 to move to a 2-0 record. EMS will travel to Great Bend next Thursday.
Seymour Rogers Football
7th Horace Good 22 Seymour Rogers 6
8th Seymour Rogers 22 Horace Good 6
Here is a summary from Coach Shuck –
7th Grade was in a close game 14-6 going into the last 5 min of the 4th quarter when HG went on a run and got a saftey, and a kick off return in under 30 secs making the score 22-6. The only score from SRMS was by Eziah Rodriguez.
8th Grade was in control from the beginning of the game, taking the opening kickoff back for a TD. Harret was the MVP accounting for 3 of the TD's, but the highlights of the game came on defense. SRMS was able to hold GB out of the Redzone and scoreless on offense, GB only TD came on a kickoff return. Final Score 22-6