Middle School Results
Brock Kappelmann - September 1, 2017 7:18 am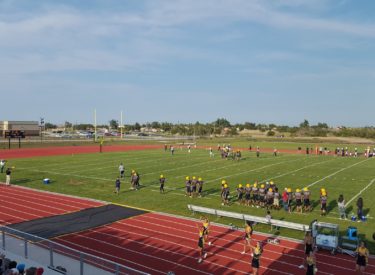 Football
7th
Eisenhower 16 Dodge City Comanche 0
Garden City Kenneth Henderson 18 Seymour Rogers 12
8th
Dodge City Comanche 12 Eisenhower 6
Seymour Rogers 50 Garden City Kenneth Henderson 16
Eisenhower 7th volleyball
7th grade volleyball traveled to Hugoton and played Hugoton and Ulysses.
7A won against Hugoton 21-10 and 21-8. In this game Rachelle Terrazas
recorded 8 aces serving 10 all together. Lexi Hensley buried some
impressive jump serves recording 8 aces with a total of 11 serves and
recorded 6 kills. In the second game of the day against Ulysses, 21-9 and
21-9. Jenna Ormiston started us out strong as firdt server recording 9 in a
row with 5 aces. Naomi Macias served 13 times with 8 aces delivering a
facial to the opposing team. Mad dog award goes to Katie Classen for pure
hustle and trying to get a touch on everyball for second hit.
7B won against Hugoton 21-10, 21-18. Top players Sasha for hustling with
good sets. Nataly Sanchez got some nice touches on the ball throughout the
game
7B won against Ulysses 22-20, 21-5. Top players Aaliyah Luna proved true,
serving game winning serves when it was tied 20-20 and served the last two
to win. Rylee Ott came alive with nice serves and passing to finish the
win. Mad Dog award goes to Josie Hall who serves consistently and hustles.
Jodi Malick
Eisenhower Cross Country
Today, the Eisenhower XC team traveled to Great Bend for the first meet of
the season. The student athletes braved the hot weather and a challenging
course and proved to show their true Warrior spirit.
We kicked off the season with the 7th grade girls finishing 2nd with a
respectable team score of 43. Finishing just out of the medals were Andrea
Rivas and Ashlynd Winchell, placing 15th and 13th respectively. Ava Maxwell
and Hallie West finished in the top 10 earning their first medals of the
season placing, 7th and 4th respectively.
Seventh grade boys made a strong statement finishing in 1st place with team
score of 34. Top 5 scorers include; Isaih Jenkins 13th, Daniel Amparan
10th, Anthony Castijella 6th, Josiah Perez 5th, and Gideon Wright 4th.
Eighth grade girls were up next and finish in 1st with a score of 47. Top 5
scorers for the team were; Pamela Bolivar 18th, Yailin Zamora 16th,
Joceline Hernandez 9th, Jacqueline Hernandez 6th, and Helena Combs 5th.
Eighth grade boys overcame some obstacles and finished in 2nd place. Our
lone medalist was Coby Tran finishing 10th, and finishing just out of the
medals were Logan Miller and Carson Gilmore who finished 11th and 15th
respectively.
Next up, we host a meet out at Arkalon campground on Tuesday, September 5th
beginning at 4:00pm.