Middle School Results: Updated with MSWAC Cross Country
Brock Kappelmann - October 7, 2016 6:39 am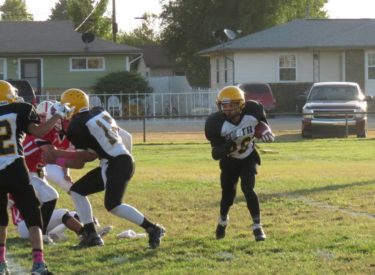 MSWAC Cross Country Saturday at Arkalon
Today the Eisenhower Warrior XC team traveled out to Arkalon to participate in the league meet and brought home the hardware once again. It was a great season and the student athletes definitely saved their best for last. We had 28 athletes qualify for the meet and 27 of them set a Personal Record!
The 7th grade girls finished their season as MSWAC champions with a team score of 30. Five of the girls received top 10 finishes in this meet. Pamela Bolivar finished in 10th, Joceline Hernandez 7th, Helena Combs 6th, Jacqueline Hernandez 4th, and Ashley Carrillo placed 3rd! This was a dominating performance by these girls as the next closest team finished with 60 points!
The 7th grade boys also finished their season as MSWAC champions! They finished with a team score of 49 and also dominated the top 15 places. Medalist include: Coby Tran 10th, Eric Baca 8th, and Logan Miller 7th. Carson Gilmore and Philip Harp finished just out of the medals placing 11th and 13th respectively. It was a great season for this boy's team and we are looking forward to seeing these boys compete in the future!
The 8th grade girls finished in 3rd place, with all 7 runners setting personal records! Our lone medalist, was Esmerelda Gutierrez who finished in 8th place.
The 8th grade boys finished in 4th place with their lone medalist, Omar Calderon finishing in 4th place. It is important to note that although Marcos Flores fell during the meet, he still placed 11th and ran a personal record.
Football
7th
Eisenhower 20 Kenneth Henderson 12
South 36 Dodge City 6
8th
South 16 Dodge City 8
Eisenhower 41 Kenneth Henderson 8
Volleyball
MSWAC
7th grade results
A-team
1) Liberal Eisenhower
2) Dodge City Comanche
3) Hays
4) Great Bend
5) Garden City Horance Good
6) Garden City Kenneth Henderson
7) Liberal South
8) Dodge City Middle
B-team
1) Hays
2) Garden City Horance Good
3) Liberal Eisenhower
4) Garden City Kenneth Henderson
5) Great Bend
6) Dodge City Comanche
7) Dodge City Middle
8) Liberal South
Lady Warriors traveled to Great Bend to compete in MSWAC bracket play as
the number one seed. EMS played Dodge Middle for first game beating them
25-18, 25-9. EMS played Great Bend and beat them in two, 25-19, 25-22. For
the championship game the Lady Warriors took on Dodge Comanche beating them
25-20, 27-25. In the 2nd set against Comanche the Lady Warriors were down
by 6 points and were having trouble breaking some hard servers, but stuck
with it and chipped away at the lead. Lady Warriors continued to swing away
when the game was on the line. Bree Horyna ended up burying a hard hit in
the corner to tie it up 24-24. Jenice Perez and Caitlyn Carlile both swung
well with a couple tape shots on the net, to get some much needed side
outs. Kaitlyn Stoney is the designated tipping queen, reaching for the
ball, and confusing the defense on multiple occasions during the day. Not
to mention some great serving, passing, defense, and setting from Emma
Evans, Amya Blake, Maizie Morris, Maggie McIntyre, Malaya Thomas, and
Elizabeth Dinh. I am incredibly proud of these girls and all their hard
work this season. 7A finish their season 25-3.
7B went into the tournament as the 2nd seeded team with their only loss
during season being to Hays. 7B played Great Bend and won. 7B played Horace
Good and lost. The 7B played for 3rd place against KH and won, taking the
win in 3. 7B finished the season 23-4.
Jodi Malick