Middle School Results
Brock Kappelmann - September 22, 2023 12:29 pm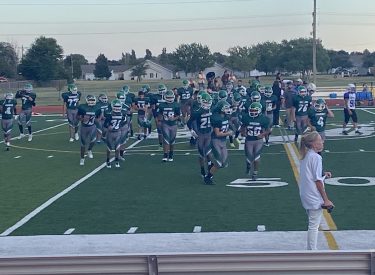 Mike Campbell
Last night the Liberal Eisenhower Middle School Warriors Football Teams hosted the Dodge City Comanche Coyotes. The 7th grade team started out on fire, leading 20-0 at the half. They only got hotter in the second half, eventually winning 42-0. Once again, Chris Moreno and Christian Moreno-Gonzalez dominated offensively, combining for over 200 yards rushing in the game. Alexis Landa also returned an interception for a Touchdown. The defense was fast and aggressive the whole game, keeping Comanche on the wrong side of the for nearly the entire game.  The 7th grade Warriors advance to 3-1 as they try to get back into first place in the conference standings.  Currently, they are tied with Horace Good for 2nd in the MSWAC.
In the 8th Grade game, Ethan Olmstead, Landry Fitzgerald, and Zayden Norez all ran the ball exceptionally well. Kye Morris earned the Game-Ball this week after a dominant showing on both offense and defense with an Interception for a TD and a rushing TD on a reverse. The Warriors jumped out to a 14-0 lead at the half, then gave up what was only the second score of the season on defense.  Comanche's fastest player beat the edge protection for EMS, and broke away for the longest play of the game and the lone score.  Even with the 55 yard reverse, EMS held the Coyotes to less than 150 total yards.  In the 4th quarter they answered back to bring the game to 20-6.  After getting the ball back on a late stop, the Warriors ran the clock out choosing to slide 3 times when they could have easily scored.
Next Thursday your EMS Warriors travel back to Garden City to take on Horace Good. The 7th grade team can keep pace with Hays and Great Bend with a win.  The 8th grade will own first place outright with a win.  As a program, Horace Good and EMS are tied at 7-1 on the season, so there is a lot at stake this weekend.  If you can make it to Garden City for the game, please wear white and green to support your Warriors.
On behalf of the entire coaching staff and the AD, Great Job Warriors!  No practice Friday or Saturday. Come back rested and ready to work on Monday.