Middle School Results
Brock Kappelmann - September 8, 2023 6:44 am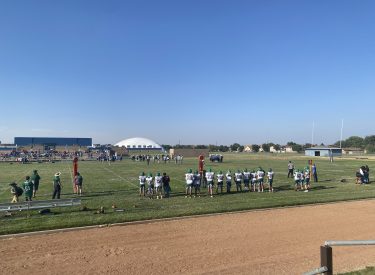 Last night in Garden City, the Eisenhower Warriors 7th and 8th grade football teams took care of business in the 101 degree heat.  Both teams were able to score on offense and on defense.  Both squads won the turnover battle and the time of possession.
Starting the night out, the 7th grade Warriors defeated Kenneth Henderson by a score of 34-0.  Again, Chris Moreno and Christian Moreno-Gonzales were unstoppable on offense, and once again, the entire defense stepped up the challenge holding KH to under 100 yards of total offense and no points.  German Yanez came up big with a clutch interception to suck the air out from under the Falcons air attack early in the game, and they never recovered.
Not to be outdone, the EMS Warriors 8th grade team also ran roughshod on the Falcons, winning 32-0.  The offense was led by, well, everyone.  QB Ethan Olmstead, RB Landry Fitzgerald, FB Zayden Norez, WR Kye Morris, and WR Isaac Castenada all had big runs, and TE Adrian Moreno-Gonzalez had a couple of big grabs. Seemingly every Warriors skill player had at least one big play.  The offensive line performed better than they have all season in practice and better than they did in game 1, making the offensive play look easy for the skilled position guys.  The defense played so well that even when the starters were off the field in the second half, the backups held KH to only a few yards and no points.  It didn't matter if it was starters or backups, there was so much pressure on the passers and ball carriers that they were rendered helpless.
Congrats to both teams on starting the season a combined 4-0 with 0 total points scored against them in 4 games.  Both teams will take a much needed break, earning the weekend off from practice.  Next week both squads travel to Great Bend to play the always tough GBMS Panthers for step 3 of their quest to WIN THE WAC.

Mike Campbell